View Item
xmlui.general.dspace_homeCentros Regionales y EEAsCentro Regional Entre RíosEEA Concepción del UruguayTesisxmlui.ArtifactBrowser.ItemViewer.trail
Control microbiano de la chinche de la panoja del arroz : Oebalus poecilus (Dallas, 1851), mediante el empleo de hongos entomopatógenos
Abstract
La chinche de la panoja, Oebalus poecilus Dallas, 1851 (Hemiptera: Pentatomidae), es una plaga que está distribuida en toda la región arrocera de la Argentina y Sud-America, pudiendo ocasionar perdidas de hasta el 80% en el rendimiento. El control de esta plaga en la actualidad se realiza mediante control químico, utilizando productos comerciales de mediano y alto impacto ambiental, interviniendo insecticidas en su mayoría fosforados, piretroides y [
ver mas...
]
The small rice stink bug, Oebalus poecilus Dallas, 1851 (Hemiptera:Pentatomidae), is a pest distributed throughout Argentina's and South America's ricegrowing region, which can cause yield losses of up to 80%. At present, the control of this pest is carried out by chemical control, using commercial products of medium and high environmental impact. The most commonly used insecticides are phosphorus, pyrethroids and carbamates, which have a prolonged [
ver mas...
]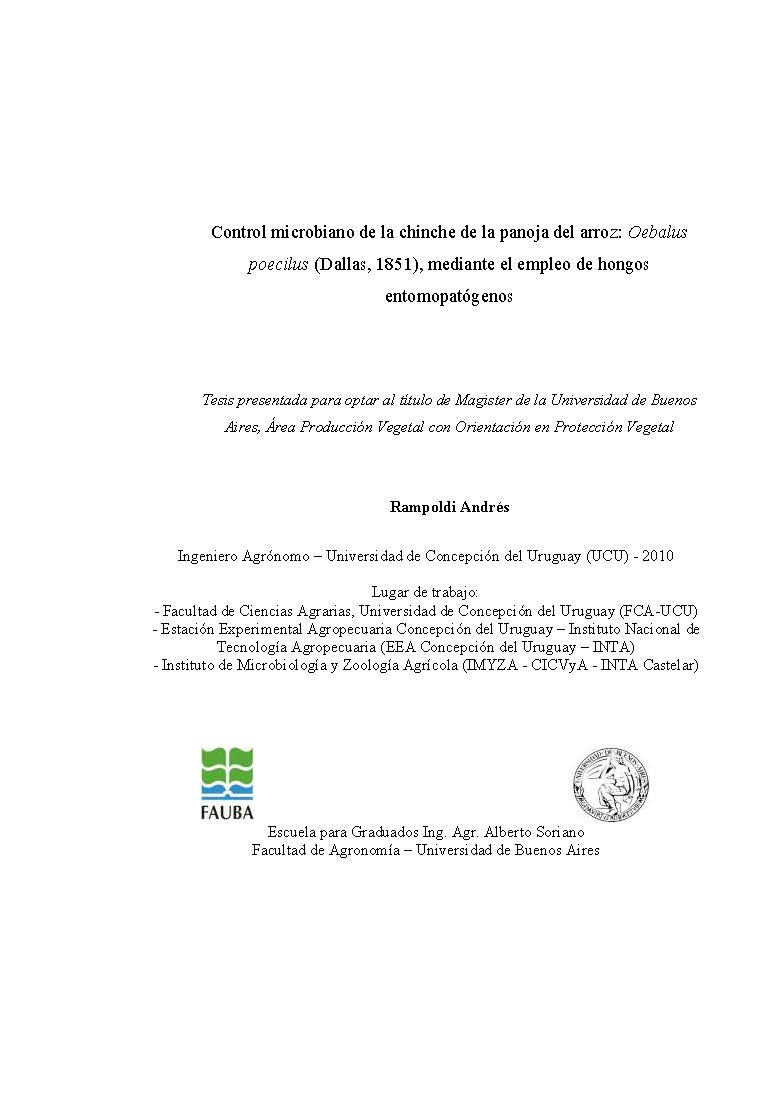 Descripción
Tesis para obtener el grado de Magister en área de Producción Vegetal, de la Universidad de Buenos Aires, en 2017
Editorial
Facultad de Agronomía, Universidad de Buenos Aires
Tipo de documento
tesis de maestría
Derechos de acceso
Abierto

Excepto donde se diga explicitamente, este item se publica bajo la siguiente descripción: Creative Commons Attribution-NonCommercial-ShareAlike 2.5 Unported (CC BY-NC-SA 2.5)
Related items
Showing items related by title, author, creator and subject.
Cuello, Eliana Marina

(

Facultad de Ciencias Exactas y Naturales, Universidad de Buenos Aires

,

2019

)

Las plagas de eucaliptos más importantes en la Argentina son Glycaspis brimblecombei, Thaumastocoris peregrinus y Leptocybe invasa, todas ellas de reciente aparición en nuestro país. El abordaje más efectivo al problema ...

Bouvet, Juan Pedro

(

Departamento de Producción Vegetal, Universitat Politècnica de València

,

2018-12

)

Dentro de los enemigos naturales de plagas en los agroecosistemas, los depredadores han sido considerados como uno de los grupos de mayor importancia. Sin embargo, su compleja biología y comportamiento ha obstaculizado en ...

Poveda, Jorge

;

Roeschlin, Roxana Andrea

;

Marano, María Rosa

;

Favaro, María Alejandra

(

Elsevier

,

2021-07

)

Citrus represents one of the most widely grown crops on the planet, extensively cultivated for both the fresh fruit and juice markets. The productivity of citrus orchards can be seriously affected by highly aggressive ...