View Item
xmlui.general.dspace_homeCentros e Institutos de InvestigaciónCIA. Centro de Investigaciones de AgroindustriaInstituto de Tecnología de AlimentosInformes técnicosxmlui.ArtifactBrowser.ItemViewer.trail
Estudio de las proteínas de estrés térmico (HSPS) como indicador bioquímico de daño poscosecha en mandarinas Satsuma Okitsu
Abstract
El objetivo del presente trabajo fue evaluar la expresión de las HSPs en mandarinas Satsuma Okitsu con diferentes índices de color (IC) a cosecha sometidos a tratamiento de desverdizado y posterior conservación frigorífica, como posible indicador bioquímico de alteraciones fisiológicas. Se cosecharon dos lotes de frutos (Entre Ríos) con índices de color de -12,8 y -9,6, ambos con grado de madurez adecuados para su consumo en fresco. Estos lotes fueron [
ver mas...
]
The aim of the present work was evaluate the expression of HSPs in Satsuma Okitsu mandarins in two batches of fruits with different color indexes (CI) at harvest, and subjected to degreening treatment and subsequent refrigeration conservation, as a possible biochemical indicator of physiological alterations. Two batches of fruits (Entre Ríos) were harvested with color indexes of -12.8 and -9.6, both with adequate degree of maturity for the external [
ver mas...
]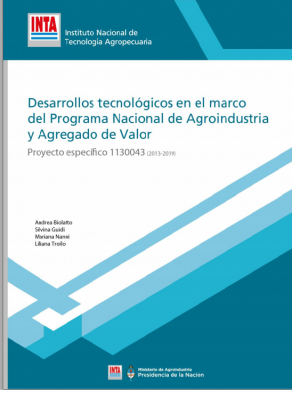 Fuente
Desarrollos tecnológicos en el marco del Programa Nacional de Agroindustria y Agregado de Valor. Proyecto específico 1130043 (2013-2019). Buenos Aires : INTA, 2019, p. 84-91
Tipo de documento
informe técnico
Proyectos (ver más)
INTA/PNAIyAV/1130043/AR./Estrategias para la diferenciación de alimentos y el desarrollo de nuevos productos alimentarios.
Palabras Claves
Mandarins; Mandarina; Degreening; Desverdización; Quality; Calidad; Postharvest Losses; Pérdidas Postcosecha; Indicator Organisms; Organismos Indicadores; Proteínas de Estrés Térmico (HSPs); Thermal Stress Proteins (HSPs); Mandarins Satsuma Okitsu; Mandarina Satsuma Okitsu;
Derechos de acceso
Abierto

Excepto donde se diga explicitamente, este item se publica bajo la siguiente descripción: Creative Commons Attribution-NonCommercial-ShareAlike 2.5 Unported (CC BY-NC-SA 2.5)