View Item
xmlui.general.dspace_homeCentros e Institutos de InvestigaciónCICVyA. Centro de Investigación en Ciencias Veterinarias y AgronómicasInstituto de BiotecnologíaArtículos científicosxmlui.ArtifactBrowser.ItemViewer.trail
Protection efficacy of Argentinian isolates of Mycobacterium avium subsp. paratuberculosis with different genotypes and virulence in a murine model
Abstract
Paratuberculosis is a chronic disease caused by Mycobacterium avium subsp. paratuberculosis (Map). The disease causes economic losses and, therefore, it is imperative to follow proper control strategies, which should include an effective vaccine. Several strategies have assessed the virulence and immune response of Map strains that could be used as a vaccine. This study evaluates the degree of virulence, immune response, and protection of Argentinian [
ver mas...
]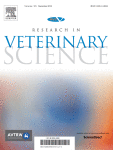 Fuente
Research in veterinary science 121 : 4-11. (December 2018)
Tipo de documento
artículo
Palabras Claves
Mycobacterium Avium Subsp. Paratuberculosis; Genotypes; Genotipos; Virulencia; Virulence; Vaccines; Vacuna; Immune Response; Respuesta Inmunológica; Murine Model;
Derechos de acceso
Restringido

Excepto donde se diga explicitamente, este item se publica bajo la siguiente descripción: Creative Commons Attribution-NonCommercial-ShareAlike 2.5 Unported (CC BY-NC-SA 2.5)
Related items
Showing items related by title, author, creator and subject.
Aimar, María Verónica

;

Amalfi, José María

;

Campos Carlés, Silvina

;

Charlon, Veronica

;

Cristiano, Gabriela

;

Delbino, Fernando

;

Diaz Cano, Muncha

;

Estevez Acuña, Rodrigo Rubén

;

Gigli, Isabel

;

Glauber, Claudio Eduardo

;

Guillermón, José

;

Ibargoyen, José María

;

Iorio, Jesica Daniela

;

Jaureguiberry, Horacio Sebastián

;

Jarkowsky, Andrés

;

Lesman, María de los Ángeles

;

Llano, Agustina

;

Mazzitelli, José

;

Moro, Santiago

;

Mozeris, Gustavo

;

Negri Rodriguez, Livia Maria

;

Olivieri, Daniela Ivana

;

Osan, Oscar

;

Pérez, Gabriela Guadalupe

;

Preumayr, Fernando Martín

;

Serrano, Pedro Miguel

;

Tonero, María Eugenia

;

Trombert, José María

;

Troya, Paula

;

Urruspuru, María Luz

;

Varaldo, Estefanía

(

Red de Buenas Prácticas Agropecuarias - BPA

,

2021-03

)

Las "Buenas Prácticas Agropecuarias" hacen referencia a una producción sana, segura y amigable con el ambiente, los animales y las personas. Son numerosos los temas que abarca e involucra la producción primaria de leche: ...

Colombatti Olivieri, Maria Alejandra

;

Moyano, Roberto Damian

;

Mon, Maria Laura

;

Gravisaco, María José

;

Alvarado Pinedo, María Fiorella

;

Delgado, Fernando Oscar

;

Hernández Pando, Rogelio

;

Alonso, Maria Natalia

;

Cuerda, Maria Ximena

;

Santangelo, María De La Paz

;

Romano, Maria Isabel

(

Elsevier

,

2021-11

)

Bovine paratuberculosis is one of the most important chronic infectious diseases in livestock. This disease is difficult to control because of its inefficient management (test and cull strategy and inadequate biosecurity). ...

Salas, Ana Lilia

;

Mercado, María Inés

;

Orqueda, Maria Eugenia

;

Correa Uriburu, Florencia

;

García, Maria Elena

;

Pérez, María Jorgelina

;

Alvarez, María de los Angeles

;

Ponessa, Graciela I.

;

Maldonado, Luis Maria

;

Zampini, Iris Catiana

;

Isla, María Inés

(

Wiley

,

2020-07

)

The effect of Argentine propolis extracts against enzymes related to metabolic syndrome and oxidative stress, as well as the botanical origin of raw propolis, were studied. Histological and chemical analyses of propolis ...