View Item
xmlui.general.dspace_homeCentros Regionales y EEAsCentro Regional Tucumán - Santiago del EsteroEEA FamailláArtículos científicosxmlui.ArtifactBrowser.ItemViewer.trail
Zuccagnia‐type Propolis from Argentina: A potential functional ingredient in food to pathologies associated to metabolic syndrome and oxidative stress
Abstract
The effect of Argentine propolis extracts against enzymes related to metabolic syndrome and oxidative stress, as well as the botanical origin of raw propolis, were studied. Histological and chemical analyses of propolis samples revealed that the botanical origin is Zuccagnia punctata , an Argentine medicinal plant. The melissopalynological analysis showed both pollen grains of Z. punctata and the other plant species. This result indicates that the [
ver mas...
]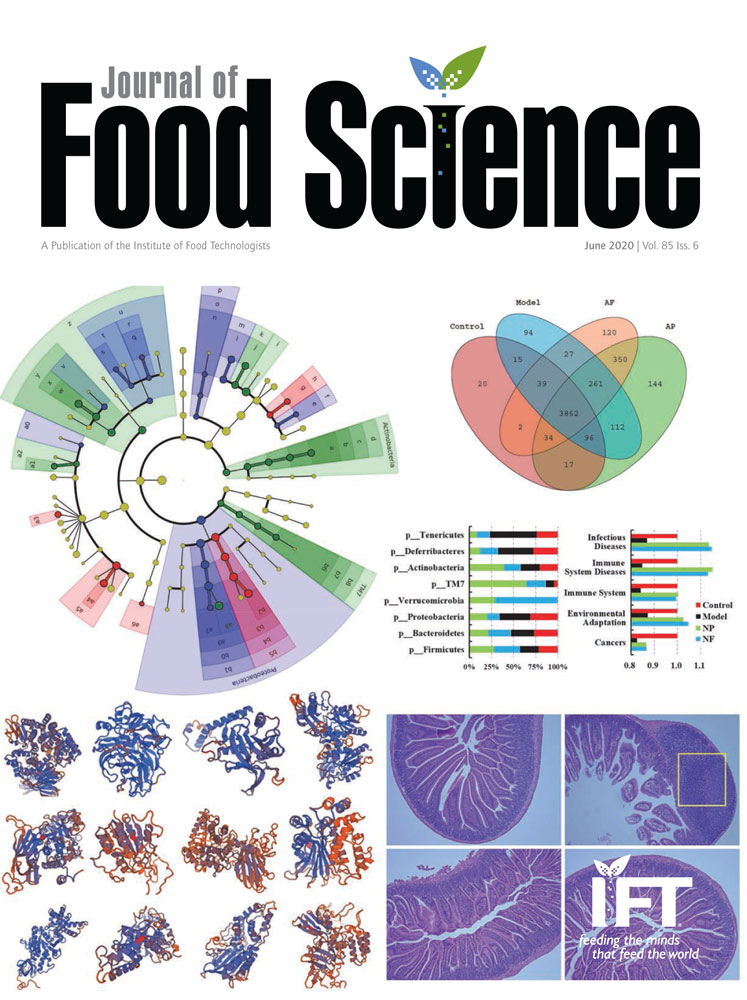 Author
Salas, Ana Lilia; Mercado, María Inés; Orqueda, Maria Eugenia;
Correa Uriburu, Florencia;
García, Maria Elena; Pérez, María Jorgelina; Alvarez, María de los Angeles; Ponessa, Graciela I.;
Maldonado, Luis Maria;
Zampini, Iris Catiana; Isla, María Inés;
Fuente
Journal of Food Science (First published: 06 July 2020)
Tipo de documento
artículo
Derechos de acceso
Restringido

Excepto donde se diga explicitamente, este item se publica bajo la siguiente descripción: Creative Commons Attribution-NonCommercial-ShareAlike 2.5 Unported (CC BY-NC-SA 2.5)
Related items
Showing items related by title, author, creator and subject.
Colombatti Olivieri, Maria Alejandra

;

Moyano, Roberto Damian

;

Traveria, Gabriel Eduardo

;

Alvarado Pinedo, Maria Fiorella

;

Mon, Maria Laura

;

Gravisaco, María José

;

Delgado, Fernando Oscar

;

Santangelo, María De La Paz

;

Romano, Maria Isabel

(

Elsevier

,

2018-12

)

Paratuberculosis is a chronic disease caused by Mycobacterium avium subsp. paratuberculosis (Map). The disease causes economic losses and, therefore, it is imperative to follow proper control strategies, which should include ...

Holgado, María Pía

;

Falivene, Juliana

;

Maeto, Cynthia

;

Amigo, Micaela

;

Pascutti, María Fernanda

;

Vecchione, María Belén

;

Bruttomesso, Andrea

;

Calamante, Gabriela

;

Del Medico Zajac, Maria Paula

;

Gherardi, Maria Magdalena

(

2016-05

)

MVA is an attenuated vector that still retains immunomodulatory genes. We have previously reported its optimization after deleting the C12L gene, coding for the IL-18 binding-protein. Here, we analyzed the immunogenicity ...

Monsutti, Maria Veronica

;

Muzi, Maria Eugenia

;

Melilli, Maria Paula

;

Beribe, Maria Jose

;

Prividera, Guido

;

Telleria, María Guadalupe

;

Fernandez, Luis

;

Meccia, Jorgelina

(

2018-08

)

El objetivo de este trabajo es realizar un análisis productivo del sector hortícola del partido de Junín. La metodología consiste en un barrido total de los productores hortícolas, utilizando la encuesta como herramienta ...