Ver ítem
xmlui.general.dspace_homeCentros e Institutos de InvestigaciónCIRN. Centro de Investigaciones de Recursos NaturalesInstituto de Recursos BiológicosArtículos científicosxmlui.ArtifactBrowser.ItemViewer.trail
Storage lipids and proteins of Euterpe edulis seeds
Resumen
Comparative studies on fatty acid and protein composition of the endosperm and embryo of palmito (Euterpe edulis Martius) were conducted using gas-liquid chromatography and sodium dodecyl sulfate– polyacrylamide gel electrophoresis. On a dry weight basis, the embryo contained extremely lower amounts of lipids and proteins than did the endosperm, which was associated with the scarce lipid and protein bodies previously reported in axis and cotyledon. The [
ver mas...
]
Estudios comparativos sobre la composición de ácidos grasos y proteínas del endospermo y el embrión de palmito (Euterpe edulis Martius) mediante cromatografía gas-líquido y dodecilsulfato de sodio– Electroforesis en gel de poliacrilamida. Sobre una base de peso seco, el embrión contenía cantidades extremadamente bajas de lípidos y proteínas que el endospermo, que estaba asociado con los escasos cuerpos de lípidos y proteínas reportado previamente en eje y [
ver mas...
]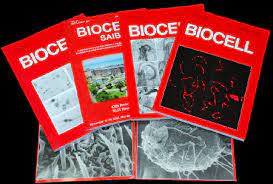 Fuente
Biocell (Mendoza) 33 (2) : 99-106. (2009).
Editorial
Sociedad Latinoamericana de Microscopía Electrónica y Centro Regional de Investigaciones Científicas y Tecnológicas (Mendoza, Argentina)
Tipo de documento
artículo
Palabras Claves
Arecaceae; Fatty Acids; Ácidos Grasos; Linoleic Acid; Ácido Linoléico; Lipids; Lípidos; Oleic Acid; Ácido Oléico; Palmitic Acid; Ácido Palmítico; Proteínas; Proteins; Stearic Acid; Ácido Estearico; Unsaturated Fatty Acid; Ácidos Grasos Insaturados; Euterpe edulis; Seeds; Semilla; Palm Seeds; Semillas de Palma; Recalcitrant Behavior; Comportamiento Recalcitrante; Storage Susceptibility; Susceptibilidad al Almacenamiento; Palmeras;
Derechos de acceso
Abierto

Excepto donde se diga explicitamente, este item se publica bajo la siguiente descripción: Creative Commons Attribution-NonCommercial-ShareAlike 2.5 Unported (CC BY-NC-SA 2.5)

Excepto si se señala otra cosa, la licencia del ítem se describe como info:eu-repo/semantics/openAccess
Ítems relacionados
Mostrando ítems relacionados por Título, autor o materia.
Gagliostro, Gerardo Antonio

;

Antonacci, Liliana Elisabet

;

Perez, Carolina Daiana

;

Rossetti, Luciana

;

Carabajal, Augusto

(

2018-09-10

)

The objective was to reduce saturated fatty acids (SFA) and increase conjugated linoleic acid (CLA, cis- 9, trans -11 C18:2), α-linolenic (cis- 9, cis- 12, cis- 15 C18:3) and docosahexaenoic (DHA, C22:6) contents in milk ...

Antonacci, Liliana

;

Gagliostro, Gerardo Antonio

;

Cano, Adriana Virginia

;

Bernal, Claudio Adrián

(

2017

)

Thirty-six grazing dairy cows were used to determine the effect of combinations of soybean (SO), and linseed (LO) oils on milk production, composition and milk fatty acid (FA) profile. Treatments were a basal control diet ...

Alberio, Constanza

;

Aguirrezábal, Luis Adolfo Nazareno

;

Izquierdo, Natalia Gabriela

;

Reid, Roberto

;

Zuil, Sebastian

;

Zambelli, Andres Daniel

(

Wiley

,

2018

)

BACKGROUND: The effect of genetic background on the stability of fatty acid composition in sunflower near isogenic lines (NILs) carrying high-oleic Pervenets (P) or high-oleicNM1mutationswas studied. Thematerialswere ...