View Item
xmlui.general.dspace_homeCentros Regionales y EEAsCentro Regional Mendoza - San JuanEEA MendozaArtículos científicosxmlui.ArtifactBrowser.ItemViewer.trail
Piranoantocianos : nuevos pigmentos en los vinos tintos. Aspectos científicos e implicancias tecnológicas.
Abstract
El universo del color de los vinos tintos es complejo, dentro del mismo actúan diversos compuestos que provienen de la uva y otros que son formados durante los procesos de vinificación y añejamiento de los vinos. Las continuas investigaciones en torno al desarrollo del color en los vinos, aportan cada vez más luz sobre el tema. El presente trabajo nos entrega un interesante compendio sobre el estado de los conocimientos actuales sobre este [
ver mas...
]
Red wines colour universe is complex, where many factors and different compounds derived from grapes, and many others produced during winemaking and ageing process, take part. Constant researches about wine colour development, throw light on this subject. This work gives us an interesting summary about current state of knowledge about this [
ver mas...
]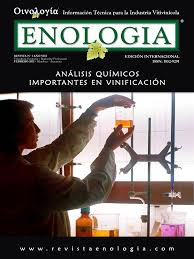 Fuente
Revista Enología 3 : 1-25 (2006)
Tipo de documento
artículo
Derechos de acceso
Abierto

Excepto donde se diga explicitamente, este item se publica bajo la siguiente descripción: Creative Commons Attribution-NonCommercial-ShareAlike 2.5 Unported (CC BY-NC-SA 2.5)