View Item
xmlui.general.dspace_homeCentros e Institutos de InvestigaciónCICVyA. Centro de Investigación en Ciencias Veterinarias y AgronómicasInstituto de BiotecnologíaArtículos científicosxmlui.ArtifactBrowser.ItemViewer.trail
Matrix assisted laser desorption ionization-time-of-flight mass spectrometry identification of mycobacterium bovis in bovinae
Abstract
In this study, Matrix Assisted Laser Desorption Ionization-Time-of-Flight (MALDI-TOF) mass spectrometry was used to identify Mycobacterium bovis from cattle and buffalo tissue isolates from the North and South regions of Brazil, grown in solid medium and previously identified by Polymerase Chain Reaction (PCR) based on Region of Difference 4 (RD4), sequencing and spoligotyping. For this purpose, the protein extraction protocol and the mass spectra [
ver mas...
]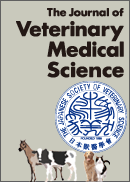 Author
Bacanelli, Gisele; Olarte, Larissa C.; Silva, Marcio Roberto; Rodrigues, Rudielle A.; Carneiro, Paulo A. M.; Kannene, John B.; Pasquatti, Taynara N.; Takatani, Haruo;
Zumarraga, Martin Jose;
Etges, Rodrigo N.; Araujo, Flabio Ribeiro de; Verbisck, Newton V.;
Fuente
The Journal of Veterinary Medical Science 81 (10) : 1400-1408 (Octubre 2019)
Editorial
The Japanese Society of Veterinary Science
Tipo de documento
artículo
Palabras Claves
Tuberculosis; Mycobacterium bovis Infections; Infeccion por Mycobacterium bovis; Ionization Treatment; Tratamiento Ionizante; Desorption; Desorción; Spectrometry; Espectrometría; Mycobacterium tuberculosis Infections; Infeccion Mycobacterium tuberculosis; Bovinae; Bovina;
Derechos de acceso
Abierto

Excepto donde se diga explicitamente, este item se publica bajo la siguiente descripción: Creative Commons Attribution-NonCommercial-ShareAlike 2.5 Unported (CC BY-NC-SA 2.5)
Related items
Showing items related by title, author, creator and subject.
Garbaccio, Sergio Gabriel

;

Barandiaran, Soledad

;

Fernández, Analía

;

Macias, Analía

;

Magnano, Gabriel

;

Martinez Vivot, Marcela

;

Peyru, Maite

;

Cataldi, Angel Adrian

(

2016

)

Mycobacterium bovis es el agente etiológico de la tuberculosis bovina. La confirmación diagnóstica en el laboratorio se realiza a través del aislamiento bacteriológico. Los ensayos interlaboratorio permiten evaluar el ...

Canal, Ana María

;

Pezzone, Natalia

;

Cataldi, Angel Adrian

;

Zumarraga, Martin Jose

;

Larzabal, Mariano

;

Garbaccio, Sergio Gabriel

;

Fernández, Analía

;

Dominguez, Lucas

;

Aranaz, Alicia

;

Rodriguez-Bertos, Antonio

(

2017

)

Cellular immune response was evaluated in lymph nodes and lung with different granulomatous lesions from cattle naturally infected with Mycobacterium bovis. For this purpose, we assessed pro-inflammatory and anti-inflamm ...

Garcia, Elizabeth Andrea

;

Bianco, Marí­a Veronica

;

Blanco, Federico Carlos

;

Bigi, Fabiana

(

2016

)

Here we confirm the efficacy of MbΔmce2-phoP to protect mice against bTB challenge and we demonstrated that this new attenuated strain is safer than our previous bTB vaccine MbΔmce2. Altogether ...