View Item
xmlui.general.dspace_homeCentros e Institutos de InvestigaciónCICVyA. Centro de Investigación en Ciencias Veterinarias y AgronómicasInstituto de PatobiologíaArtículos científicosxmlui.ArtifactBrowser.ItemViewer.trail
Ensayo interlaboratorio : aislamiento de Mycobacterium bovis a partir de lesiones granulomatosas en bovinos = Interlaboratory test: Isolation of Mycobacterium bovis from granulomatous lesions in bovine
Abstract
Mycobacterium bovis es el agente etiológico de la tuberculosis bovina. La confirmación diagnóstica en el laboratorio se realiza a través del aislamiento bacteriológico. Los ensayos interlaboratorio permiten evaluar el desempe˜no de cada laboratorio participante comparándolo con otros de capacidades similares. El objetivo del presente estudio fue determinar la eficiencia en el aislamiento de M. bovis. Este estudio contó con la participación de 4 [
ver mas...
]
Mycobacterium bovis is the causative agent of bovine tuberculosis. The diagnostic laboratory confirmation is made through bacterial isolation. The aim of interlaboratory tests is to assess the performance of each participant in comparison with other of similar capacities. The test objective was to determine the efficiency of isolation of M. bovis. Four laboratories were part of the test and processed 25 blind tissue samples from granulomatous lesions and [
ver mas...
]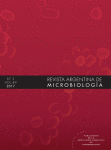 Fuente
Revista argentina de microbiología 48 (2) : 161-165. (April–June 2016)
Tipo de documento
article
Palabras Claves
Enfermedades de los Animales; Mycobacterium Bovis; Animal Diseases; Aislamiento; Isolation; Infección por Mycobacterium Bovis; Mycobacterium Bovis Infections; Lesiones Granulomatosas;
Derechos de acceso
Abierto

Excepto donde se diga explicitamente, este item se publica bajo la siguiente descripción: Creative Commons Attribution-NonCommercial-ShareAlike 2.5 Unported (CC BY-NC-SA 2.5)
Related items
Showing items related by title, author, creator and subject.
Bacanelli, Gisele

;

Olarte, Larissa C.

;

Silva, Marcio Roberto

;

Rodrigues, Rudielle A.

;

Carneiro, Paulo A. M.

;

Kannene, John B.

;

Pasquatti, Taynara N.

;

Takatani, Haruo

;

Zumarraga, Martin Jose

;

Etges, Rodrigo N.

;

Araujo, Flabio Ribeiro de

;

Verbisck, Newton V.

(

The Japanese Society of Veterinary Science

,

2019-10

)

In this study, Matrix Assisted Laser Desorption Ionization-Time-of-Flight (MALDI-TOF) mass spectrometry was used to identify Mycobacterium bovis from cattle and buffalo tissue isolates from the North and South regions of ...

Canal, Ana María

;

Pezzone, Natalia

;

Cataldi, Angel Adrian

;

Zumarraga, Martin Jose

;

Larzabal, Mariano

;

Garbaccio, Sergio Gabriel

;

Fernández, Analía

;

Dominguez, Lucas

;

Aranaz, Alicia

;

Rodriguez-Bertos, Antonio

(

2017

)

Cellular immune response was evaluated in lymph nodes and lung with different granulomatous lesions from cattle naturally infected with Mycobacterium bovis. For this purpose, we assessed pro-inflammatory and anti-inflamm ...

Garcia, Elizabeth Andrea

;

Bianco, Marí­a Veronica

;

Blanco, Federico Carlos

;

Bigi, Fabiana

(

2016

)

Here we confirm the efficacy of MbΔmce2-phoP to protect mice against bTB challenge and we demonstrated that this new attenuated strain is safer than our previous bTB vaccine MbΔmce2. Altogether ...