View Item
xmlui.general.dspace_homeCentros e Institutos de InvestigaciónCIRN. Centro de Investigaciones de Recursos NaturalesInstituto de SuelosTesisxmlui.ArtifactBrowser.ItemViewer.trail
Interacciones entre propiedades físicas y composición mineralógica y granulométrica de suelos argiudoles de la pampa ondulada
Abstract
En la pampa ondulada se han descripto en las posiciones positivas del paisaje numerosas series de suelos, que presentan rasgos diferenciales originados a partir de composiciones texturales y mineralógicas distintas. Sin embargo, son escasos los trabajos que relacionen la composición mineralógica con las propiedades físicas y físico-químicas de perfiles completos de suelos. En esta tesis se estudiaron algunos suelos argiudoles de distintos sectores de la [
ver mas...
]
Numerous soil Series have been described in the positive positions of the Rolling Pampa's landscape, displaying different features mainly due to differences in their textural and mineralogical compositions. However, up to now few studies have related the physical and physical-chemical properties of complete soil profiles with their mineralogical composition. This thesis analyzes several Argiudolls characterizing different sectors of the Rolling Pampa: [
ver mas...
]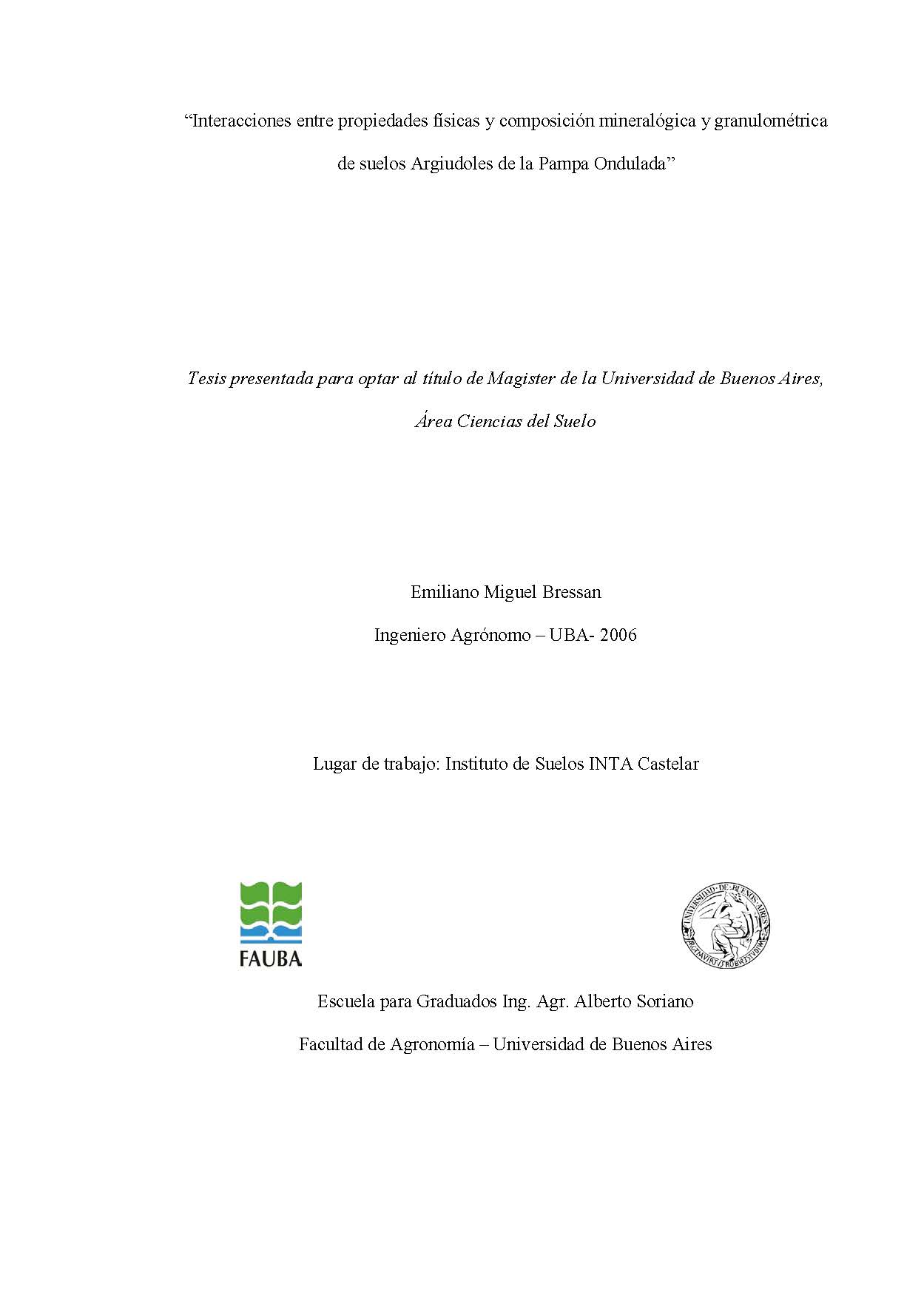 Descripción
Tesis para obtener el grado de Magister en el área Ciencias del Suelo, de la Universidad de Buenos Aires, en 2013
Editorial
Facultad de Agronomía, Universidad de Buenos Aires
Tipo de documento
tesis de maestría
Derechos de acceso
Abierto

Excepto donde se diga explicitamente, este item se publica bajo la siguiente descripción: Creative Commons Attribution-NonCommercial-ShareAlike 2.5 Unported (CC BY-NC-SA 2.5)
Related items
Showing items related by title, author, creator and subject.
Morras, Hector

;

Moretti, Lucas Martin

;

Piccolo, Gabriel Agustin

;

Zech, Wolfgang H.

(

Elsevier

,

2009-03

)

Deep red soils, combining characteristics of highly weathered materials together with a significant degree of clay illuviation and with stony horizons close to the saprolite, are found in the Province of Misiones, northeastern ...

Milesi Delaye, Luis Antonio

;

Irizar, Alicia Beatriz

;

Andriulo, Adrian Enrique

;

Mary, Bruno

(

2013

)

Long-term soil organic carbon (SOC) and soil organic nitrogen (SON) following cultivation of grassland soils (100/120-year tillage (T) + 20/30-year no tillage (NT)) of the Rolling Pampa were studied calibrating the simple ...

Von Wallis, Alejandra

(

Facultad de Agronomía, Universidad de Buenos Aires

,

2013-08

)

Las propiedades físicas de los suelos de ambientes subtropicales húmedos fueron tradicionalmente menos estudiadas que los de zonas templadas. Una característica de los primeros es su menor resiliencia frente a un disturbio. ...