View Item
xmlui.general.dspace_homeCentros e Institutos de InvestigaciónCIRN. Centro de Investigaciones de Recursos NaturalesInstituto de SuelosTesisxmlui.ArtifactBrowser.ItemViewer.trail
Interacciones entre propiedades físicas y composición mineralógica y granulométrica de suelos argiudoles de la pampa ondulada
Abstract
En la pampa ondulada se han descripto en las posiciones positivas del paisaje numerosas series de suelos, que presentan rasgos diferenciales originados a partir de composiciones texturales y mineralógicas distintas. Sin embargo, son escasos los trabajos que relacionen la composición mineralógica con las propiedades físicas y físico-químicas de perfiles completos de suelos. En esta tesis se estudiaron algunos suelos argiudoles de distintos sectores de la [
ver mas...
]
Numerous soil Series have been described in the positive positions of the Rolling Pampa's landscape, displaying different features mainly due to differences in their textural and mineralogical compositions. However, up to now few studies have related the physical and physical-chemical properties of complete soil profiles with their mineralogical composition. This thesis analyzes several Argiudolls characterizing different sectors of the Rolling Pampa: [
ver mas...
]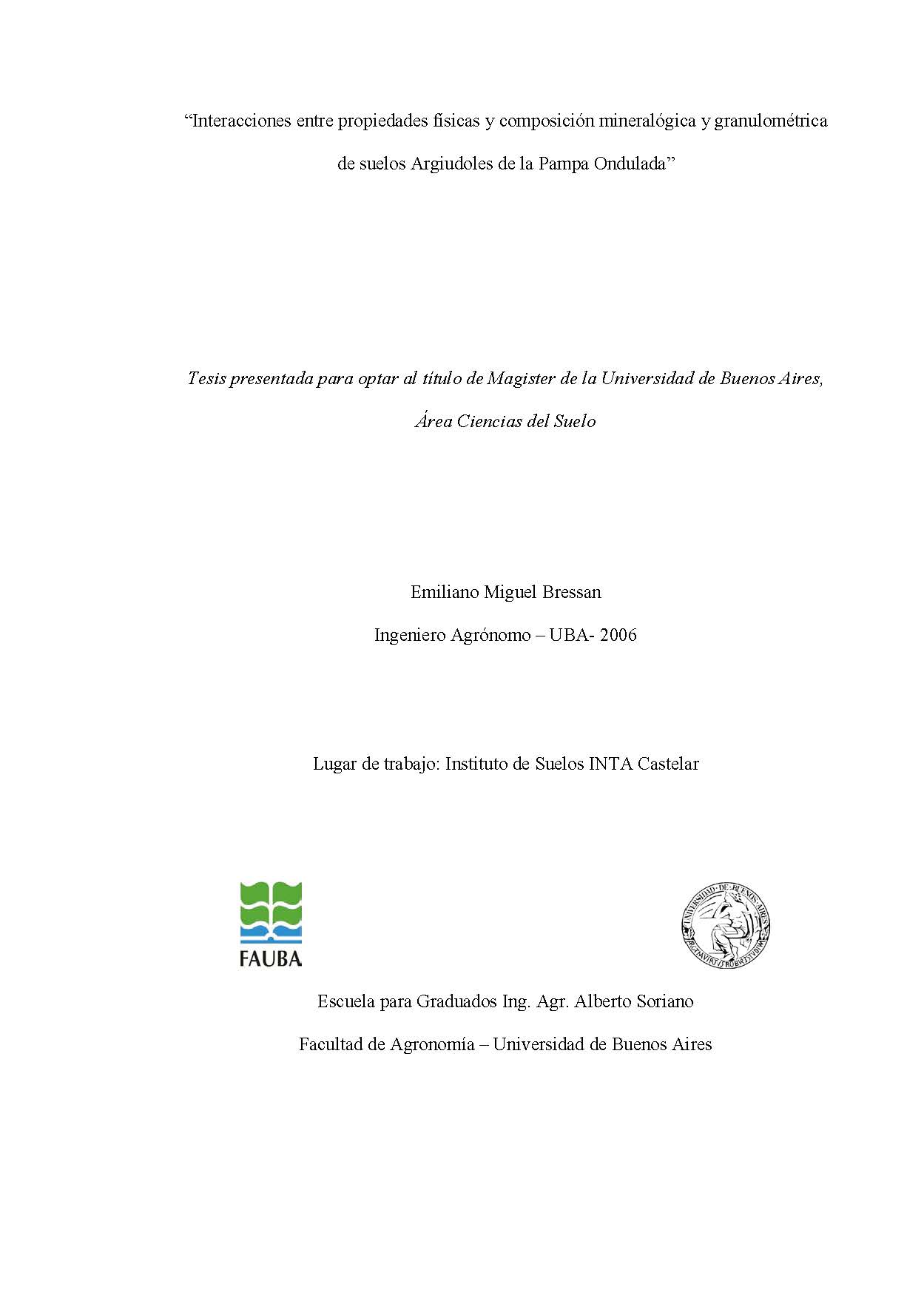 Descripción
Tesis para obtener el grado de Magister en el área Ciencias del Suelo, de la Universidad de Buenos Aires, en 2013
Editorial
Facultad de Agronomía, Universidad de Buenos Aires
Tipo de documento
tesis de maestría
Palabras Claves
Suelo; Soil; Propiedades Físico - Químicas Suelo; Soil Chemicophysical Properties; Mineralogía; Mineralogy; Tipos de Suelos; Soil Types; Suelo Arcilloso; Clay Soils; Suelo Argiudol; Región Pampa Ondulada;
Derechos de acceso
Abierto

Excepto donde se diga explicitamente, este item se publica bajo la siguiente descripción: Creative Commons Attribution-NonCommercial-ShareAlike 2.5 Unported (CC BY-NC-SA 2.5)
Related items
Showing items related by title, author, creator and subject.
Bjerring, Anna Trier

;

Peri, Pablo Luis

;

Christiansen, Rodolfo

;

Vargas-Bello-Pérez, Einar

;

Hansen, Hanne Helene

(

IJAB. Friends science publishers

,

2020-08-31

)

Stocking rate adjustment in grazing management is recommended as a management tool to sustain productivity and improve soil health of permanent grassland ecosystems. The aim of this project was to assess the effect of ...

Utrilla, Victor Ricardo

;

Andrade, Miguel Alberto

;

Billoni, Sabrina L.

;

Rogel, Bibiana

;

Peri, Pablo Luis

(

Centro Regional de Investigación Kampenaike, Punta Arenas; Chile.

,

2021

)

En Patagonia, los principales disturbios que afectan los mallines se asocian con variaciones inducidas en la napa freática y el pastoreo intensivo y continuo del ganado (Raffaele 1999). En este contexto, el sobrepastoreo ...

Restovich, Silvina Beatriz

;

Andriulo, Adrian Enrique

;

Portela, Silvina Isabel

(

Springer Nature

,

2022

)

Cropping diversification with cover crop mixtures combined with low N fertilization represents an ecological alternative that may promote sustainability. Our objective was to evaluate changes on soil organic fractions and ...