View Item
xmlui.general.dspace_homeCentros e Institutos de InvestigaciónCIRN. Centro de Investigaciones de Recursos NaturalesInstituto de SuelosArtículos científicosxmlui.ArtifactBrowser.ItemViewer.trail
Genesis of subtropical soils with stony horizons in NE Argentina: Autochthony and polygenesis
Abstract
Deep red soils, combining characteristics of highly weathered materials together with a significant degree of clay illuviation and with stony horizons close to the saprolite, are found in the Province of Misiones, northeastern Argentina. Two basic types of stony horizons have been found, which with the fine-grained material above are together considered autochthonous. The first one is a "ferruginous nodular horizon", composed mainly of in situ goethitic [
ver mas...
]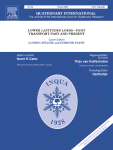 Fuente
Quaternary International 196 (1–2) : 137-159 (March 2009)
Tipo de documento
artículo
Derechos de acceso
Restringido

Excepto donde se diga explicitamente, este item se publica bajo la siguiente descripción: Creative Commons Attribution-NonCommercial-ShareAlike 2.5 Unported (CC BY-NC-SA 2.5)
Related items
Showing items related by title, author, creator and subject.
Milesi Delaye, Luis Antonio

;

Irizar, Alicia Beatriz

;

Andriulo, Adrian Enrique

;

Mary, Bruno

(

2013

)

Long-term soil organic carbon (SOC) and soil organic nitrogen (SON) following cultivation of grassland soils (100/120-year tillage (T) + 20/30-year no tillage (NT)) of the Rolling Pampa were studied calibrating the simple ...

Von Wallis, Alejandra

(

Facultad de Agronomía, Universidad de Buenos Aires

,

2013-08

)

Las propiedades físicas de los suelos de ambientes subtropicales húmedos fueron tradicionalmente menos estudiadas que los de zonas templadas. Una característica de los primeros es su menor resiliencia frente a un disturbio. ...

Gomez, Claudio Andres

(

Facultad de Ciencias Agrarias, Universidad Nacional del Litoral

,

2015-08

)

La eliminación de la cobertura vegetal en plantaciones citrícolas de Concordia (Entre Ríos) por diferentes prácticas de manejo contribuye a la degradación de las propiedades físicas, químicas y biológicas del suelo. El ...