View Item
xmlui.general.dspace_homeCentros Regionales y EEAsCentro Regional Salta - JujuyEEA SaltaTesisxmlui.ArtifactBrowser.ItemViewer.trail
Caracterización morfológica, agronómica y molecular de germoplasma de Bromus brevis Ness (Sección Ceratochloa)
Abstract
Bromus brevis (cebadilla pampeana) es una apreciable forrajera nativa de zonas áridas y semiáridas de la Argentina. En los bancos de germoplasma del INTA de Balcarce y Anguil se conservan entradas de esa especie cuya variabilidad no ha sido descripta completamente, lo que es fundamental para su conservación y utilización. Con el objetivo de caracterizar este germoplasma se analizaron 20 entradas de B.brevis y una de B.catharticus como testigo, mediante 33 [
ver mas...
]
Bromus brevis (cebadilla pampeana) is a valuable native forage of arid and semiarid zones of the Argentina. Germplasm Banks of Balcarce and Anguil (INTA) conserves accessions of this species which variability has not been decrypted completely, which is fundamental for its conservation and utilization. With the aim to characterize this germplasm there were analyzed 20 accessions of B.brevis and 1 of B. catharticus as control, by means of 33 [
ver mas...
]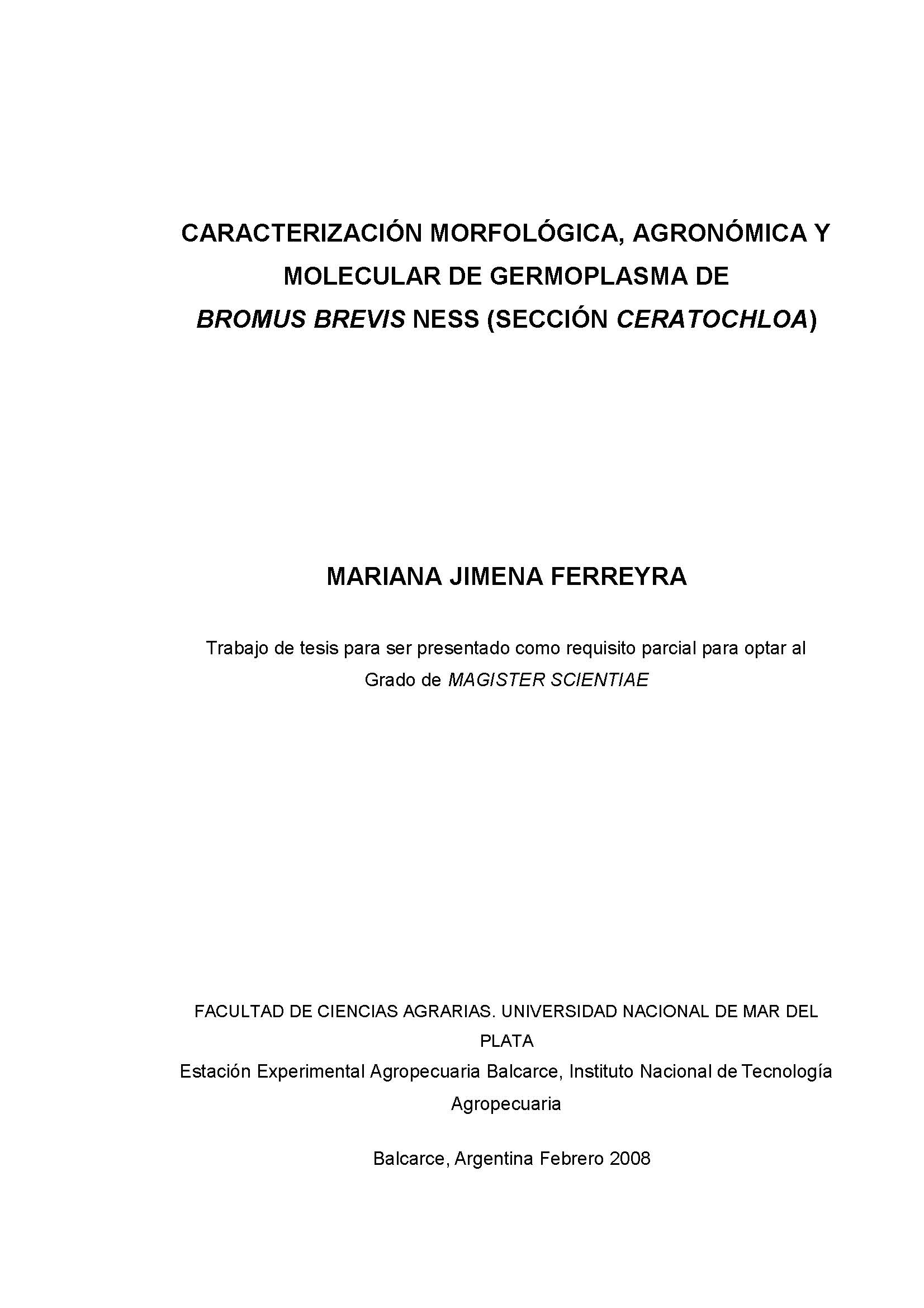 Director de Tesis
Alonso, Sara (directora);
Descripción
Tesis para obtener el grado de Magister Scientiae, presentada en la Facultad de Ciencias Agrarias de la Universidad Nacional de Mar del Plata, en febrero de 2008.
Editorial
Facultad de Ciencias Agrarias, Universidad Nacional de Mar del Plata
Tipo de documento
tesis de maestría
Derechos de acceso
Abierto

Excepto donde se diga explicitamente, este item se publica bajo la siguiente descripción: Creative Commons Attribution-NonCommercial-ShareAlike 2.5 Unported (CC BY-NC-SA 2.5)