View Item
xmlui.general.dspace_homeCentros Regionales y EEAsCentro Regional Patagonia NorteEEA Alto ValleTesisxmlui.ArtifactBrowser.ItemViewer.trail
Factores que afectan la sostenibilidad del uso de feromonas en grandes áreas para control de carpocapsa (Cydia pomonella) en valle medio del Río Negro
Abstract
El control de carpocapsa (Cydia pomonella), plaga clave de peras y manzanas, mediante la técnica de confusión sexual (TCS) utilizando feromonas en grandes áreas o bloques conformados por productores vecinos, constituye una estrategia de lucha sanitaria que intenta superar el esquema tradicional de uso intensivo de plaguicidas a nivel predial. La implementación en la Región Patagonia Norte de los bloques definió un sistema de innovación en la intervención [
ver mas...
]
Mating disruption to control Codling moth (Cydia pomonella), the key pest of apples and pears, in area-wide programs constitutes a phytosanitary approach that overcomes the traditional plot by plot pesticide application strategy. The implementation of the area-wide control or ―blocks‖ in the North Patagonian Region represents an innovation system on the subject of the territorial intervention in relation to the organization and participation of different [
ver mas...
]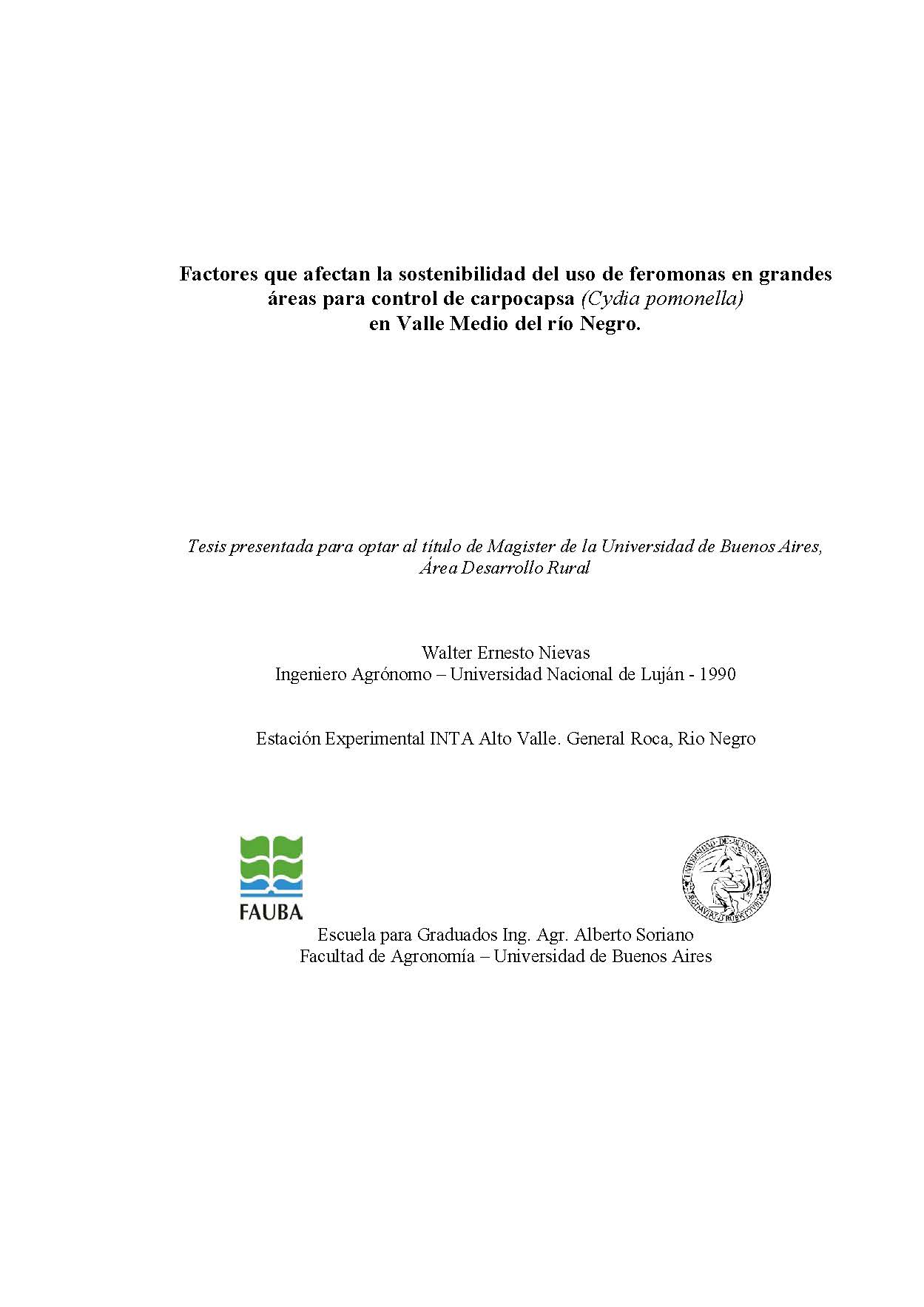 Director de Tesis
Román, Marcela Eloisa (directora);
Descripción
Tesis para obtener el grado de Magister en área Desarrollo Rural, de la Universidad de Buenos Aires, en 2012
Editorial
Facultad de Agronomía, Universidad de Buenos Aires
Tipo de documento
tesis de maestría
Palabras Claves
Plagas de Plantas; Pests of Plants; Control de Plagas; Pest Control; Sostenibilidad; Sustainability; Cydia Pomonella; Feromonas; Pheromones; Frutas de Pepita; Pome Fruits; Control Biológico; Biological Control; Carpocapsa; Valle Medio, Río Negro;
Derechos de acceso
Abierto

Excepto donde se diga explicitamente, este item se publica bajo la siguiente descripción: Creative Commons Attribution-NonCommercial-ShareAlike 2.5 Unported (CC BY-NC-SA 2.5)
Related items
Showing items related by title, author, creator and subject.
Bouvet, Juan Pedro

(

Departamento de Producción Vegetal, Universitat Politècnica de València

,

2018-12

)

Dentro de los enemigos naturales de plagas en los agroecosistemas, los depredadores han sido considerados como uno de los grupos de mayor importancia. Sin embargo, su compleja biología y comportamiento ha obstaculizado en ...

Cuello, Eliana Marina

(

Facultad de Ciencias Exactas y Naturales, Universidad de Buenos Aires

,

2019

)

Las plagas de eucaliptos más importantes en la Argentina son Glycaspis brimblecombei, Thaumastocoris peregrinus y Leptocybe invasa, todas ellas de reciente aparición en nuestro país. El abordaje más efectivo al problema ...

Poveda, Jorge

;

Roeschlin, Roxana Andrea

;

Marano, María Rosa

;

Favaro, María Alejandra

(

Elsevier

,

2021-07

)

Citrus represents one of the most widely grown crops on the planet, extensively cultivated for both the fresh fruit and juice markets. The productivity of citrus orchards can be seriously affected by highly aggressive ...