View Item
xmlui.general.dspace_homeCentros e Institutos de InvestigaciónCIRN. Centro de Investigaciones de Recursos NaturalesInstituto de SuelosArtículos científicosxmlui.ArtifactBrowser.ItemViewer.trail
Genesis of subtropical soils with stony horizons in NE Argentina: Autochthony and polygenesis
Abstract
Deep red soils, combining characteristics of highly weathered materials together with a significant degree of clay illuviation and with stony horizons close to the saprolite, are found in the Province of Misiones, northeastern Argentina. Two basic types of stony horizons have been found, which with the fine-grained material above are together considered autochthonous. The first one is a "ferruginous nodular horizon", composed mainly of in situ goethitic [
ver mas...
]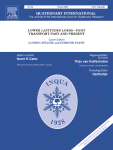 Fuente
Quaternary International 196 (1–2) : 137-159 (March 2009)
Tipo de documento
artículo
Palabras Claves
Génesis del Suelo; Soil Genesis; Tipos de Suelos; Soil Types; Suelo Subtropical; Subtropical Soils; Suelo Pedregoso; Stony Soils; Horizontes del Suelo; Soil Horizons; Región Noreste, Argentina;
Derechos de acceso
Restringido

Excepto donde se diga explicitamente, este item se publica bajo la siguiente descripción: Creative Commons Attribution-NonCommercial-ShareAlike 2.5 Unported (CC BY-NC-SA 2.5)
Related items
Showing items related by title, author, creator and subject.
Bjerring, Anna Trier

;

Peri, Pablo Luis

;

Christiansen, Rodolfo

;

Vargas-Bello-Pérez, Einar

;

Hansen, Hanne Helene

(

IJAB. Friends science publishers

,

2020-08-31

)

Stocking rate adjustment in grazing management is recommended as a management tool to sustain productivity and improve soil health of permanent grassland ecosystems. The aim of this project was to assess the effect of ...

Utrilla, Victor Ricardo

;

Andrade, Miguel Alberto

;

Billoni, Sabrina L.

;

Rogel, Bibiana

;

Peri, Pablo Luis

(

Centro Regional de Investigación Kampenaike, Punta Arenas; Chile.

,

2021

)

En Patagonia, los principales disturbios que afectan los mallines se asocian con variaciones inducidas en la napa freática y el pastoreo intensivo y continuo del ganado (Raffaele 1999). En este contexto, el sobrepastoreo ...

Restovich, Silvina Beatriz

;

Andriulo, Adrian Enrique

;

Portela, Silvina Isabel

(

Springer Nature

,

2022

)

Cropping diversification with cover crop mixtures combined with low N fertilization represents an ecological alternative that may promote sustainability. Our objective was to evaluate changes on soil organic fractions and ...