View Item
xmlui.general.dspace_homeCentros e Institutos de InvestigaciónCICVyA. Centro de Investigación en Ciencias Veterinarias y AgronómicasInstituto de VirologíaArtículos científicosxmlui.ArtifactBrowser.ItemViewer.trail
Controlling Rotavirus-associated diarrhea: Could single-domain antibody fragments make the difference? = Hacia el control de la diarrea por rotavirus A: ¿podrían los nanoanticuerpos VHH marcar la diferencia?
Abstract
Group A Rotavirus (RVA) remains a leading cause of severe diarrhea and child mortality. The variable domain of camelid heavy chain antibodies (VHH) display potent antigen-binding capacity, have low production costs and are suitable for oral therapies. Two sets of anti-RVA VHHs have been developed: ARP1-ARP3; 2KD1-3B2. Here, we explore the potential of both sets as a prevention strategy complementary to vaccination and a treatment option against [
ver mas...
]
Los rotavirus del grupo A (RVA) constituyen la principal causa de diarrea grave y mortalidad infantil. La porción variable de los anticuerpos de cadena pesada derivados de camélidos presentan una amplia capacidad de unión antigénica (reconocen sitios antigénicos no accesibles a los anticuerpos tradicionales, con elevada afinidad) tienen bajos costos de producción y resultan ideales para las terapias orales. A la fecha, se desarrollaron 2 pares de [
ver mas...
]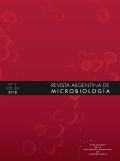 Fuente
Revista argentina de microbiología 47 (4) : 368-379. (October–December 2015)
Editorial
Asociación Argentina de Microbiología
Tipo de documento
artículo
Palabras Claves
Rotavirus; Diarrea; Diarrhoea; Anticuerpos; Antibodies; Diarrea Neonatal; Neonatal Diarrhea; VHH; Nanoanticuerpos; Nanoantibodies; Single Domain Antibody Fragments; Porción Variable de Anticuerpos de Cadena Pesada;
Derechos de acceso
Abierto

Excepto donde se diga explicitamente, este item se publica bajo la siguiente descripción: Creative Commons Attribution-NonCommercial-ShareAlike 2.5 Unported (CC BY-NC-SA 2.5)