View Item
xmlui.general.dspace_homeCentros Regionales y EEAsCentro Regional MisionesEEA Cerro AzulArtículos científicosxmlui.ArtifactBrowser.ItemViewer.trail
Regeneración de plantas de té [Camellia sinensis] por cultivo in vitro de meristemas, yemas axilares y segmentos uninodales = Plant regeneration of tea (Camellia sinensis) by in vitro culture of meristems, axillary buds and uninodal segments
Abstract
Tres tipos de explantes de dos clones (CH 14 INTA y CH 318 INTA) de té (Camellia sinensis (L.) O. Kuntze) fueron evaluados para su regeneración in vitro, bajo la influencia de dos citocininas (BAP y CIN) y una giberelina (AG3). Previa desinfección, con etanol 70% (1 minuto) e hipoclorito de sodio 1,5% (20 minutos) y tres enjuagues con agua destilada estéril, los explantes fueron aislados y cultivados en los distintos medios de cultivo. Las mejores [
ver mas...
]
Plants of two clones (CH 14 INTA and CH 318 INTA) of tea (Camellia sinensis (L.) O. Kuntze) were regenerated by in vitro culture of three types of explants disinfected by immersion in 70% ethanol (1 min) and 1.5% sodium hypochlorite (20 min). The best medium for shoot regeneration from uninodal segments, for both clones, as well as for axillary buds of CH 14 INTA clone was ½ MS + 1 mg/L BAP. While the best medium for axillary buds of CH 318 clone was ½ MS [
ver mas...
]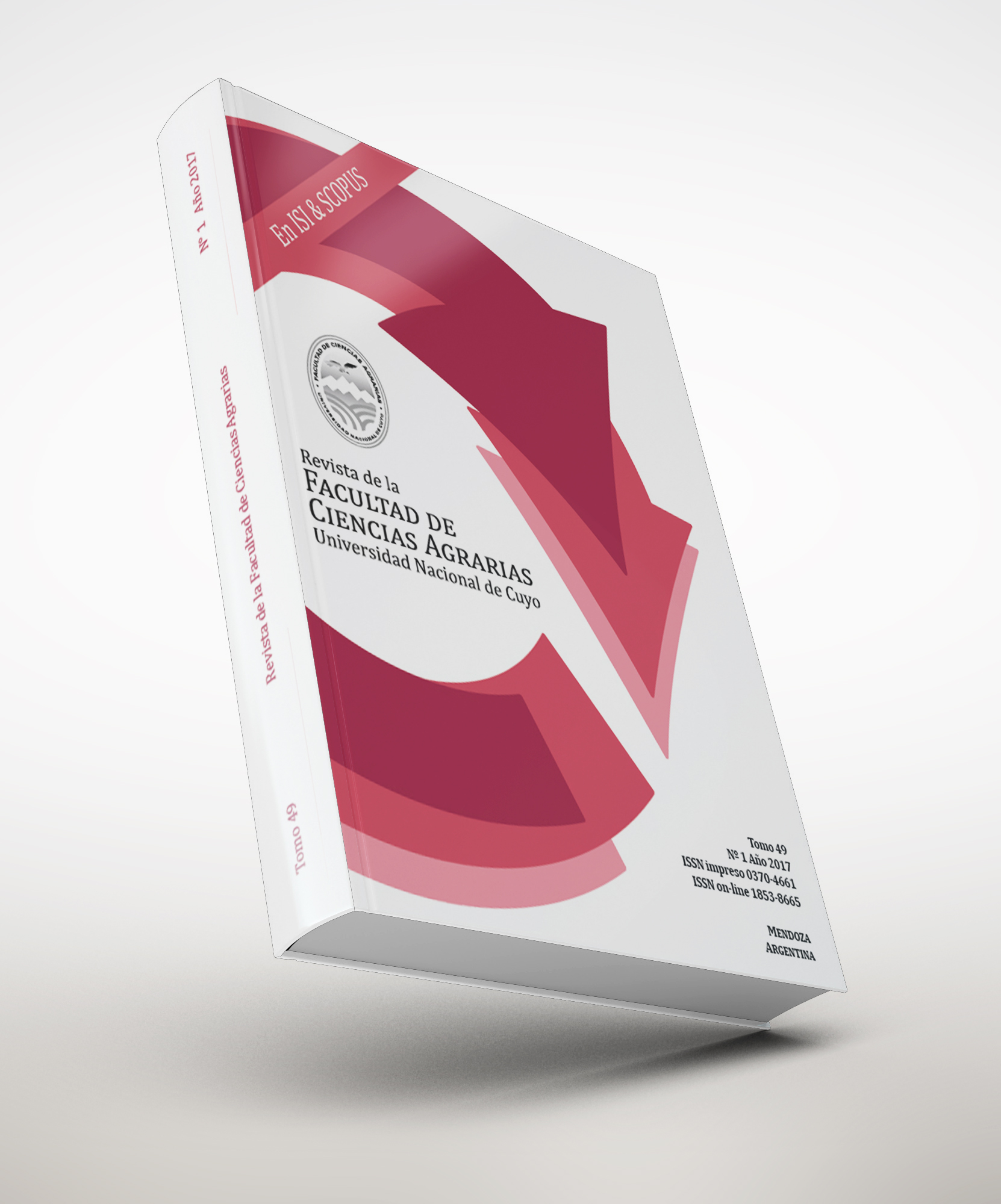 Fuente
Revista de la Facultad de Ciencias Agrarias / Universidad Nacional de Cuyo 45 (1) : 127-134. (2013)
ISSN
0370-4661
1853-8665 (Online version)
Tipo de documento
artículo
Palabras Claves
Té; Tea; Camelia Sinensis; Cultivo in Vitro; In Vitro Culture; Regeneración in Vitro; In Vitro Regeneration; Meristemas; Meristems; Yemas Axilares; Segmentos Uninodales; Axilary Buds; Uninodal Segments;
Derechos de acceso
Abierto

Excepto donde se diga explicitamente, este item se publica bajo la siguiente descripción: Creative Commons Attribution-NonCommercial-ShareAlike 2.5 Unported (CC BY-NC-SA 2.5)
Related items
Showing items related by title, author, creator and subject.
Escandon, Alejandro Salvio

;

Aguirre, Eduardo Del Valle

;

Coviella, Maria Andrea

;

Iannicelli, Jesica

;

Perez De La Torre, Mariana

;

Elechosa, Miguel Angel

;

van Baren, Catalina María

;

Pacheco, Maria Gabriela

(

2016

)

Aromatic and medicinal plants have been traditionally harvested from the wild and, in Argentina, they have been exploited without any major limitation. In vitro plant propagation is an easy and inexpensive method to obtain ...

Foschi, María Laura

;

Martínez, Liliana Estela

;

Ponce, MaríaTeresa

;

Galmarini, Claudio Romulo

;

Bohanec, Borut

(

Universidad Nacional de Cuyo. Facultad de Ciencias Agrarias

,

2013

)

Doubled haploid onion (Allium cepa L.) plants allow the production of completely homozygous lines for a later production of hybrids. The haploid plants are normally produced using in vitro gynogenesis. The obtained haploid ...

Carloni, Edgardo José

;

Lopez Colomba, Eliana

;

Ribotta, Andrea Noemi

;

Quiroga, Mariana Paola

;

Tommasino, Exequiel Arturo

;

Griffa, Sabrina Mariana

;

Grunberg, Karina

(

Universidad Nacional de Cuyo

,

2018

)

Genetic variability can be generated through in vitro culture via somaclonal variation. This tool can be potentially useful in a breeding program involving apomictic buffelgrass genotypes. The aim of this work was to ...