View Item
xmlui.general.dspace_homeCentros e Institutos de InvestigaciónCICVyA. Centro de Investigación en Ciencias Veterinarias y AgronómicasInstituto de Microbiología y Zoología AgrícolaPartes de librosxmlui.ArtifactBrowser.ItemViewer.trail
RNAi Expression in Cotton for Control of Herbivorous Insects
Abstract
Cultivated cotton (Gossypium hirsutum) is heavily attacked by various species of insects worldwide and breeding of new varieties resistant to pests is still a hard battle to win. RNAi technology is an important reverse genetics tool to induce gene silencing in eukaryotic organisms and produce phenotypic modifications. In cotton, RNAi was applied to investigate gene function and enhance resistance to insects and pathogens. Different methods and techniques [
ver mas...
]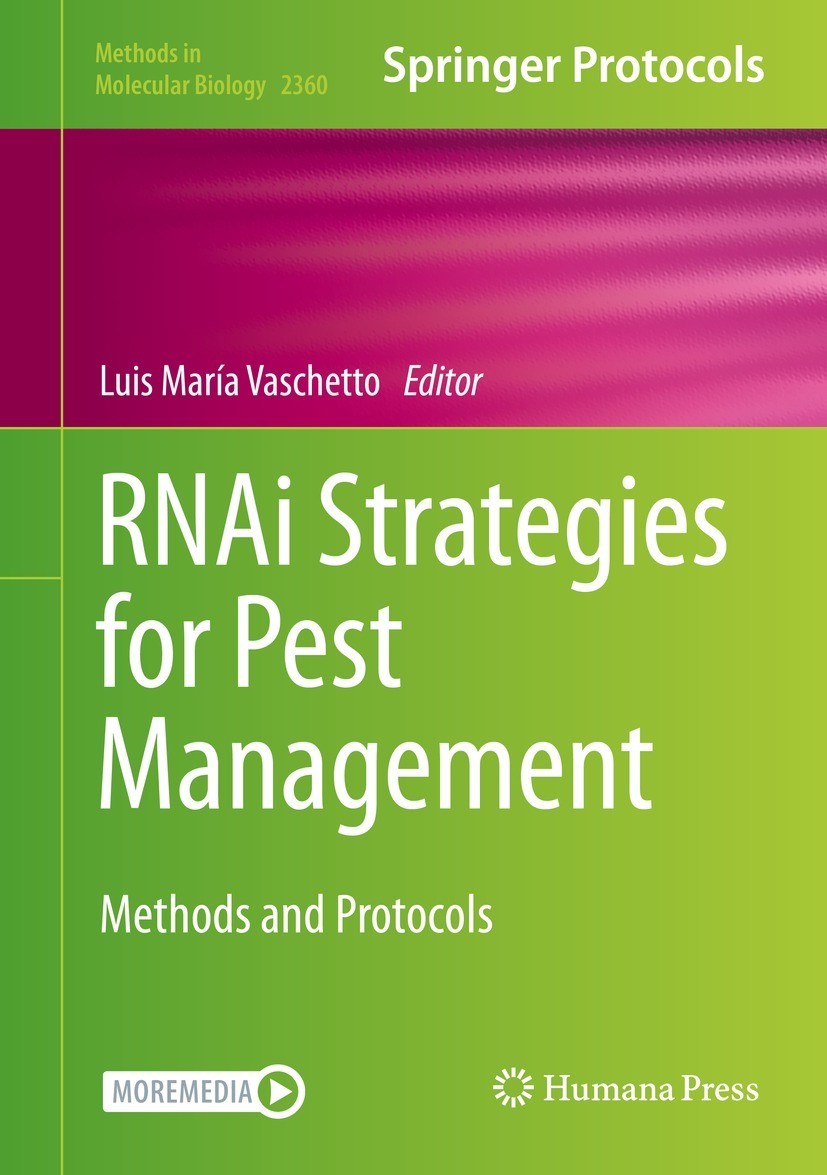 Fuente
RNAi Strategies for Pest Management : methods and protocols / editors: Luis María Vaschetto. New York: Humana, 2021. p. 217–233
Serie
Methods in Molecular Biology (Springer)
Tipo de documento
parte de libro
Palabras Claves
Gossypium hirsutum; Algodón; Cotton; Control Biológico; Biological Control; Control de Plagas; Pest Control; Transgenic Cotton Plants; Virus Induced Gene Silencing; RNA Interference;
Derechos de acceso
Restringido

Excepto donde se diga explicitamente, este item se publica bajo la siguiente descripción: Creative Commons Attribution-NonCommercial-ShareAlike 2.5 Unported (CC BY-NC-SA 2.5)
Related items
Showing items related by title, author, creator and subject.
Taiariol, Dario

(

EEA Bella Vista, INTA

,

2022-12-15

)

Una planta no deseada en un lugar no deseado. No siempre invasivas o salvajes. Efectos adversos de malezas. -En plantas jóvenes: Compite y afecta la disponibilidad de nutrientes, luz y agua y, además, alelopatías. - En ...

Bouvet, Juan Pedro

(

Departamento de Producción Vegetal, Universitat Politècnica de València

,

2018-12

)

Dentro de los enemigos naturales de plagas en los agroecosistemas, los depredadores han sido considerados como uno de los grupos de mayor importancia. Sin embargo, su compleja biología y comportamiento ha obstaculizado en ...

Cuello, Eliana Marina

(

Facultad de Ciencias Exactas y Naturales, Universidad de Buenos Aires

,

2019

)

Las plagas de eucaliptos más importantes en la Argentina son Glycaspis brimblecombei, Thaumastocoris peregrinus y Leptocybe invasa, todas ellas de reciente aparición en nuestro país. El abordaje más efectivo al problema ...