View Item
xmlui.general.dspace_homeCentros Regionales y EEAsCentro Regional Salta - JujuyEEA SaltaArtículos científicosxmlui.ArtifactBrowser.ItemViewer.trail
Propuesta y evaluación de una técnica de sedimentación y tinción con azul de metileno (y de una variante) para el diagnóstico de Fasciola hepática = Proposal and evaluation of a sedimentation and methylene blue staining technique(and a variant) for the diagnosis of Fasciola hepatica.
Abstract
La fasciolosis es uno de los mayores problemas sanitarios de origen parasitario en los rumiantes del Noroeste argentino. Varias de las técnicas diagnósticas coprológicas para Fasciola hepatica adolecen de poca sensibilidad, de ser muy complejas e insumir mucho tiempo. Esta comunicación describe y evalúa dos métodos coprológicos alternativos para el diagnóstico de F. hepatica mediante su comparación con otras técnicas previamente descriptas. El primero de [
ver mas...
]
Fasciolosis is one of the major parasitic health problems in ruminants in northwestern Argentina. Several coprological techniques for the diagnosis of Fasciola hepatica are characterized by being of low sensitivity, highly complex and time-consuming. The present work describes and evaluates two alternative coprological methods for the diagnosis of F. hepatica by comparing them with other previously described techniques. One of them, denominated [
ver mas...
]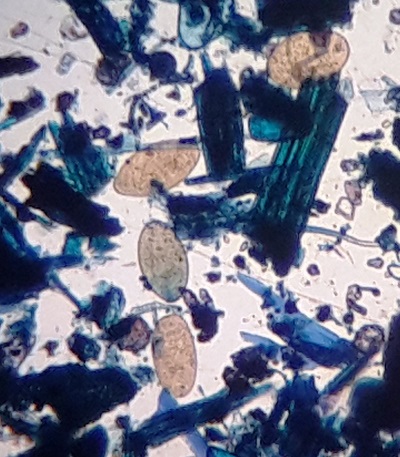 Tipo de documento
artículo
Palabras Claves
Fasciola Hepatica; Técnicas de Diagnosis; Diagnostic Techniques; Rumiante; Small Ruminants; Colorantes; Dyes; Diagnóstico Coprológico; Azul de Metileno; Coprological Diagnosis;
Derechos de acceso
Abierto

Excepto donde se diga explicitamente, este item se publica bajo la siguiente descripción: Creative Commons Attribution-NonCommercial-ShareAlike 2.5 Unported (CC BY-NC-SA 2.5)