View Item
xmlui.general.dspace_homeCentros e Institutos de InvestigaciónCICVyA. Centro de Investigación en Ciencias Veterinarias y AgronómicasInstituto de BiotecnologíaArtículos científicosxmlui.ArtifactBrowser.ItemViewer.trail
Identification of a new cotton disease caused by an atypical cotton leafroll dwarf virus in Argentina
Abstract
An outbreak of a new disease occurred in cotton (Gossypium hirsutum) fields in northwest Argentina starting in the 2009–10 growing season and is still spreading steadily. The characteristic symptoms of the disease included slight leaf rolling and a bushy phenotype in the upper part of the plant. In this study, we determined the complete nucleotide sequences of two independent virus genomes isolated from cotton blue disease (CBD)-resistant and -susceptible [
ver mas...
]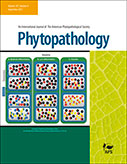 Fuente
Phytopathology 107 (3) : 369-376. (2017)
Tipo de documento
artículo
Derechos de acceso
Restringido

Excepto donde se diga explicitamente, este item se publica bajo la siguiente descripción: Creative Commons Attribution-NonCommercial-ShareAlike 2.5 Unported (CC BY-NC-SA 2.5)
Related items
Showing items related by title, author, creator and subject.
Pozzi, Elizabeth Alicia

;

Bruno, Cecilia Inés

;

Luciani, Cecilia

;

Celli, Marcos Giovani

;

Conci, Vilma Cecilia

;

Perotto, Maria Cecilia

(

Springer

,

2020-02

)

Environmental heterogeneity can shape the plant-virus relationship, furthering the appearance of new diseases in crops, or altering disease incidence and severity. In this work, we studied the virus association with ...

Celli, Marcos Giovani

;

Torrico Ramallo, Ada Karina

;

Kiehr, Mirta

;

Conci, Vilma Cecilia

(

Springer

,

2013-06

)

Complete nucleotide (nt) and deduced amino acid sequences of two onion yellow dwarf virus (OYDV) isolates showing mild and severe symptoms in onion but being unable to infect garlic were determined. The genomes consisted ...

Craig, Marí­a Isabel

;

Rojas, Marí­a Florencia

;

Van Der Ploeg, Claudia Andrea

;

Olivera, Valeria Soledad

;

Vagnozzi, Ariel Eduardo

;

Perez, Andrés M.

;

Konig, Guido Alberto

(

2017-12-13

)

Avian infectious laryngotracheitis (ILT) is a worldwide infectious disease that causes important economic losses in the poultry industry. Although it is known that ILT virus (ILTV) is present in Argentina, there is no ...