View Item
xmlui.general.dspace_homeCentros Regionales y EEAsCentro Regional Patagonia SurEEA Santa CruzPresentaciones a congresosxmlui.ArtifactBrowser.ItemViewer.trail
Línea de base para el monitoreo de manejo silvopastoril con separación de ambientes.
Abstract
Una línea de base constituye un punto de referencia con el cual comparar y detectar cambios en el tiempo según el manejo que se haga del área de interés. La implementación de nuevos esquemas productivos (ej., manejo silvopastoril intensivo o MSI) deben incluir una línea de base y posterior monitoreo a fin de evaluar la sustentabilidad del sistema. Este trabajo evalúa la situación inicial de la regeneración de ñire y la composición botánica en diferentes [
ver mas...
]
Abstract: A baseline monitoring is a reference point with which compare and detect future changes according to the management proposed. The implementation of new productive schemes (eg., intensive silvopastoral management or MSI) must necessarily include a baseline and subsequent monitoring in order to evaluate the sustainability of the system. This work evaluated the initial situation of tree (ñire) regeneration and the botanical composition in different [
ver mas...
]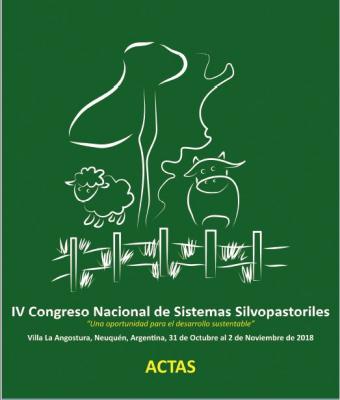 Fuente
IV Congreso Nacional de Sistemas Silvopastoriles, Villa la Angostura, Neuquén, 31 de octubre al 2 de noviembre de 2018. p. 585-596
Tipo de documento
documento de conferencia
Palabras Claves
Sistemas Silvopascícolas; Silvopastoral Systems; Vigilancia; Monitoring; Evaluación del Impacto Ambiental; Environmental Impact Assessment; Sostenibilidad; Sustainability; Regeneración; Regeneration; Nothofagus; Composición Botánica; Botanical Composition; Bosques; Forests; Pastizales; Pastures; Organismos Indicadores; Indicator Organisms; Tierra del Fuego (Argentina); Ñire; Línea de Base; Baseline; Manejo Intensivo; Intensive Hadling;
Derechos de acceso
Abierto

Excepto donde se diga explicitamente, este item se publica bajo la siguiente descripción: Creative Commons Attribution-NonCommercial-ShareAlike 2.5 Unported (CC BY-NC-SA 2.5)