View Item
xmlui.general.dspace_homeCentros Regionales y EEAsCentro Regional Chaco - FormosaEEA Colonia BenítezArtículos científicosxmlui.ArtifactBrowser.ItemViewer.trail
Problemática de la extensión rural y la organización : caso de la comunidad originaria Rancho Viejo, La Leonesa, Chaco - Argentina
Abstract
En el Censo nacional de población, hogares y vivienda del año 2010 (INDEC), el 3,9% de la población de la provincia del Chaco es reconocida como población originaria, se trata de 41.304 personas sobre un total de 1.055.259 habitantes. Por otra parte el 58,6% de esta población vive en áreas urbanas y el 41,4% en áreas rurales. El Territorio de la comunidad qom en estudio comprende el barrio Belgrano y la colonia Rancho Viejo, de la localidad de La Leonesa, [
ver mas...
]
O Censo Nacional da População, Domicílios e Habitação de 2010 (INDEC), 3,9% da população da província de Chaco é reconhecida como população original, são 41.304 pessoas, de um total de 1.055.259 habitantes. Por outro lado, 58,6% dessa população vive em áreas urbanas e 41,4% em áreas rurais. O território da comunidade qom em estudo inclui o bairro de Belgrano e o bairro de Rancho Viejo, na cidade de La Leonesa, Chaco. O objetivo geral do trabalho foi [
ver mas...
]
In the National Population, Household and Housing Census of 2010 (INDEC), 3.9% of the population of the province of Chaco is recognized as the original population, it is 41,304 people out of a total of 1,055,259 inhabitants. On the other hand, 58.6% of this population lives in urban areas and 41.4% in rural areas. The Territory of the qom community under study includes the Belgrano neighborhood and the Rancho Viejo neighborhood, in the town of La Leonesa, [
ver mas...
]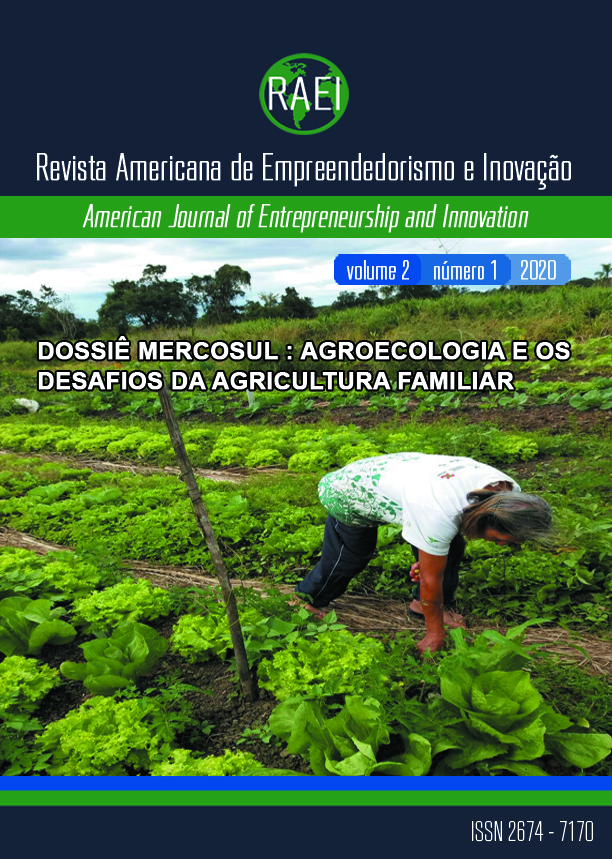 Fuente
Revista Americana de Empreendedorismo e Inovação 2 (1) : 82-93. (Marzo 2020)
Editorial
Universidade Estadual do Paraná
Tipo de documento
artículo
Palabras Claves
Extensión; Extension Activities; Desarrollo Rural; Rural Development; Población Rural; Rural Population; Territorio; Territory; ProHuerta; La Leonesa, Chaco; Comunidad Rancho Viejo;
Derechos de acceso
Abierto

Excepto donde se diga explicitamente, este item se publica bajo la siguiente descripción: Creative Commons Attribution-NonCommercial-ShareAlike 2.5 Unported (CC BY-NC-SA 2.5)
Related items
Showing items related by title, author, creator and subject.
Hernandez, Hernan Hector

(

Facultad de Ciencias Agrarias, Universidad Nacional de Mar del Plata

,

2014-06

)

Los procesos globales que implican importantes transformaciones en los territorios –en este caso, la expansión del modelo de agro-negocios en Argentina–; particularmente en regiones extra-pampeanas, ha devenido en profundas ...

Cobelo, Claudia Monica

(

Ediciones INTA

,

2018-07

)

La actividad turística en el paraje El Manso-Villegas es vista por sus pobladores como una oportunidad para comercializar su producción primaria y secundaria y generar fuentes de ingreso para sus familias. Una buena parte ...

Zon, Karina Daniela

(

2016

)