View Item
xmlui.general.dspace_homeCentros e Institutos de InvestigaciónCICVyA. Centro de Investigación en Ciencias Veterinarias y AgronómicasInstituto de BiotecnologíaArtículos científicosxmlui.ArtifactBrowser.ItemViewer.trail
Genetic diversity of Mycobacterium avium sp. Paratuberculosis by mycobacterial interspersed repetitive unit–variable number tandem repeat and multi‑locus short‑sequence repeat one‑sentence summary : genetic diversity of Mycobacterium avium sp. Paratuberculosis isolates
Abstract
Background: Paratuberculosis is an enteric disease caused by Mycobacterium avium sp. paratuberculosis (MAP) that affects mainly ruminant producing losses to the livestock industry. Many molecular epidemiological methods have been used to discriminate MAP isolates. Method: The aim of this study was to describe the genetic diversity of the Argentinean MAP isolates using a combination of two molecular systems, the mycobacterial interspersed repetitive [
ver mas...
]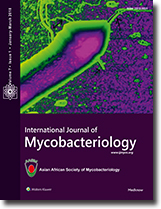 Fuente
International Journal of Mycobacteriology 10 (1) : 51-59 (Marzo 2021)
Editorial
Wolters Kluwer Medknow
Tipo de documento
artículo
Palabras Claves
Mycobacterium avium subsp. paratuberculosis; Mycobacterium avium Infections; Infección por Mycobacterium avium; Genetic Variation; Variación Genética; Quantitative Trait Loci; Loci de Rasgos Cuantitativos; Genetic Isolation; Aislamiento Genético;
Derechos de acceso
Abierto

Excepto donde se diga explicitamente, este item se publica bajo la siguiente descripción: Creative Commons Attribution-NonCommercial-ShareAlike 2.5 Unported (CC BY-NC-SA 2.5)
Related items
Showing items related by title, author, creator and subject.
Viale, Mariana

;

Zumarraga, Martin Jose

;

Araujo, Flabio Ribeiro de

;

Zarraga, Ana Maria

;

Cataldi, Angel Adrian

;

Romano, Maria Isabel

;

Bigi, Fabiana

(

Office International des Epizooties

,

2016

)

Las especies Mycobacterium bovis y Mycobacterium avium subsp. paratuberculosis son los agentes causales de la tuberculosis y la paratuberculosis en animales, respectivamente. Además, ambas micobacterias, pero fundamentalmente ...

Barandiaran, Soledad

;

Pérez, Andrés M.

;

Gioffre, Andrea

;

Martinez Vivot, Marcela

;

Cataldi, Angel Adrian

;

Zumarraga, Martin Jose

(

Cambridge University Press

,

2015-04

)

In Argentina little is known about the epidemiology of tuberculosis (TB) infection in swine. We characterized the epidemiological dynamics of Mycobacterium avium complex (MAC) infection in a swine population of Argentina ...

Alonso, Maria Natalia

;

Malaga, Wladimir

;

Mc Neil, Michael

;

Jackson, Mary

;

Romano, Maria Isabel

;

Guilhot, Christophe

;

Santangelo, María De La Paz

(

Elsevier

,

2020-09

)

Targeted gene disruption by homologous recombination, has been widely used in mycobacterium species to understand the genetic basis of virulence and persistence in the host and to develop efficacious potential live vaccines. ...