View Item
xmlui.general.dspace_homeCentros Regionales y EEAsCentro Regional Entre RíosEEA ParanáArtículos científicosxmlui.ArtifactBrowser.ItemViewer.trail
Perspectivas sobre contribuciones y estados del bosque nativo de actores sociales vinculados a la producción ganadera en el Espinal entrerriano
Abstract
Los procesos de deforestación y de degradación hacen que el Espinal sea una de las ecorregiones boscosas más amenazadas de la Argentina. En el centro-norte de Entre Ríos, los remanentes de bosques de Espinal nativo son claves para la biodiversidad y para la ganadería integrada al bosque. Por lo tanto, su conservación y uso sostenible requieren incorporar perspectivas de múltiples actores sociales (AS) del sistema productivo. Mediante 21 entrevistas [
ver mas...
]
Deforestation and degradation processes have made the Espinal one of Argentina's most threatened forested ecoregions. In the central-north part of Entre Ríos Province, forest remnants are important for biodiversity and cattle ranching integrated into the forest. Therefore, the conservation and sustainable use of the Entre Ríos Espinal requires the incorporation of different stakeholders (SH) from this productive system. Using 21 semi-structured interviews [
ver mas...
]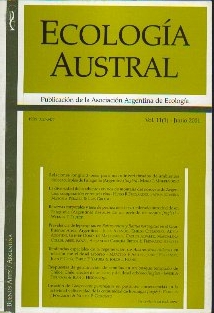 Fuente
Ecología Austral 31 (1) : 87-100 (Abril 2021)
Editorial
Asociación Argentina de Ecología
Tipo de documento
artículo
Proyectos (ver más)
INTA/PNNAT-1128053/AR./Evaluación y manejo de la biodiversidad y sus servicios ecosistémicos de interés para la producción agropecuaria.
Palabras Claves
Servicios de los Ecosistemas; Ecosystem Services; Bosques; Forests; Bosque Primario; Primary Forests; Ganadería; Animal Husbandry; Biodiversidad; Biodiversity; Bosque Nativo; Espinal; Entre Ríos, Argentina;
Derechos de acceso
Abierto

Excepto donde se diga explicitamente, este item se publica bajo la siguiente descripción: Creative Commons Attribution-NonCommercial-ShareAlike 2.5 Unported (CC BY-NC-SA 2.5)