View Item
xmlui.general.dspace_homeCentros e Institutos de InvestigaciónCIA. Centro de Investigaciones de AgroindustriaInstituto de Tecnología de AlimentosPartes de librosxmlui.ArtifactBrowser.ItemViewer.trail
Green extraction of nutritional and antioxidant valuable compounds from wine by-products
Abstract
The world wine-growing area in 2017 stands at 7.5 million hectares, with Spain having the largest number (967,000 ha), around 13% of the world surface, ranking ahead of countries, such as China (870,000 ha) and France (786,000 ha) (OIV [The International rganization of Vine and Wine], 2019). In terms of world's wine production, Italy is the leading producer (48.5 million hectoliters), ollowed by France (46.4 million hectoliters) and Spain (40.9 million [
ver mas...
]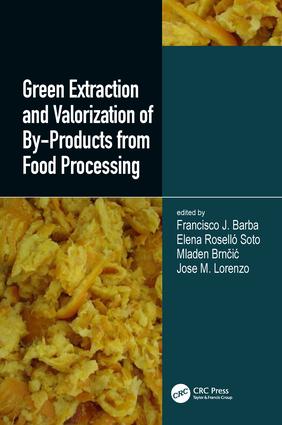 Author
Barba, Francisco J.; Gómez, Belén;
Denoya, Gabriela Inés;
Brnčić, Mladen; Brnčić, Suzana Rimac; Lorenzo, José M.; Moreno, Andrés;
Fuente
Green Extraction and Valorization of By-Products from Food Processing / edited by Francisco J. Barba, Elena Rosello Soto, Mladen Brncic, Jose Manuel Lorenzo Rodriquez. 1st Edition. Boca Raton, Fl. : CRC Press, 2019. Chapter 8.
Editorial
Taylor & Francis
Tipo de documento
parte de libro
Palabras Claves
Byproducts; Subproductos; Wines; Vinos; Antioxidants; Antioxidantes; Nutritive Value; Valor Nutritivo; Green Extraction; Extracción Verde;
Derechos de acceso
Restringido

Excepto donde se diga explicitamente, este item se publica bajo la siguiente descripción: Creative Commons Attribution-NonCommercial-ShareAlike 2.5 Unported (CC BY-NC-SA 2.5)