View Item
xmlui.general.dspace_homeCentros Regionales y EEAsCentro Regional Patagonia SurEEA Santa CruzTesisxmlui.ArtifactBrowser.ItemViewer.trail
Dinámica y utilización del nitrógeno en el cultivo de cerezo dulce, Prunus avium L.
Abstract
No existen resultados concluyentes en cuanto al efecto del N en el rendimiento del cerezo, las características del fruto, la acumulación de reservas, o el riesgo de lixiviación de nitratos. Por ese motivo, se utiliza información obtenida en otros frutales para tomar decisiones que afectan a su cultivo. En esta tesis se trabajó en montes adultos con los objetivos de determinar: los principales órganos de almacenamiento de N según el momento de aplicación [
ver mas...
]
There are no conclusive results about the effect that N exerts in sweet cherry orchards regarding the crop yield, the characteristics of the fruit, the accumulation of reserves, or the risk of nitrateleaching. Due to these uncertainties, decisions related to their cultivation are based on research conducted on other fruit trees. Using adult orchards in the field work process, the objectives of this thesis were to determine: (a) the main organs storing N [
ver mas...
]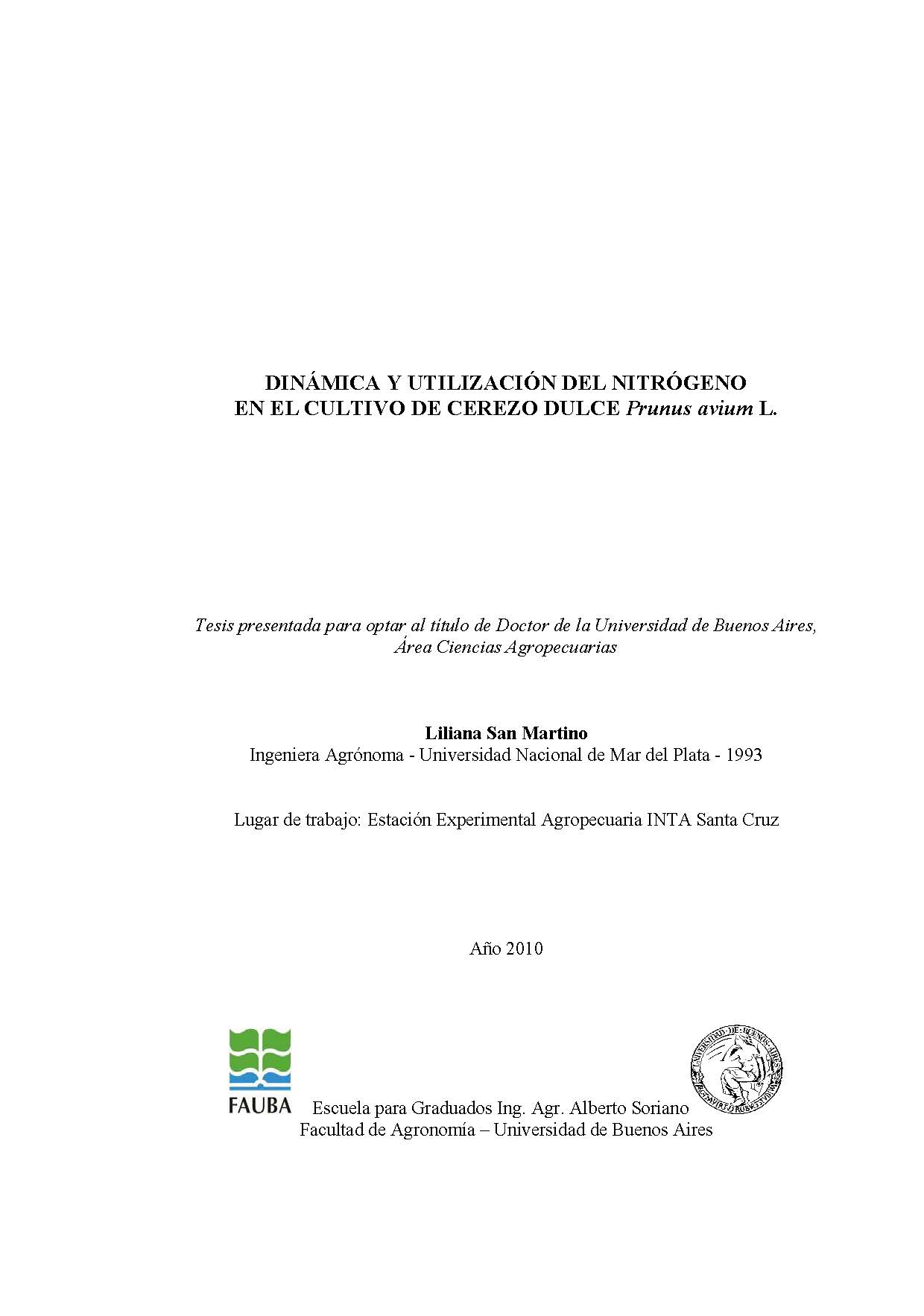 Descripción
Tesis para obtener el grado de Doctor en Área Ciencias Agropecuarias, presentada en la Universidad de Buenos Aires, en 2010
Editorial
Facultad de Agronomía, Universidad de Buenos Aires
Tipo de documento
tesis doctoral
Palabras Claves
Cereza; Cherries; Prunus Avium; Nitrógeno; Nitrogen; Lixiviación; Leaching; Rendimiento; Yields; Calidad; Quality;
Derechos de acceso
Abierto

Excepto donde se diga explicitamente, este item se publica bajo la siguiente descripción: Creative Commons Attribution-NonCommercial-ShareAlike 2.5 Unported (CC BY-NC-SA 2.5)