View Item
xmlui.general.dspace_homeCentros e Institutos de InvestigaciónCICVyA. Centro de Investigación en Ciencias Veterinarias y AgronómicasInstituto de PatobiologíaArtículos científicosxmlui.ArtifactBrowser.ItemViewer.trail
Aplicación de un método de extracción de ADN a partir de sangre canina sensible y de bajo costo para el diagnóstico molecular de Leishmania sp. = Application of a sensitive and low cost method for the extraction of DNA from canine blood to the molecular diagnosis of Leishmania sp.
Abstract
La leishmaniosis canina (LC) es una enfermedad causada por hemoparásitos del género Leishmania. Los parásitos se transmiten a través de vectores flebótomos a los seres humanos y a otros mamíferos, generando cuadros tegumentarios y viscerales. Varios estudios han demostrado la eficacia de la reacción en cadena de la polimerasa (PCR) para el diagnóstico molecular de LC. El objetivo de este trabajo fue desarrollar un método de extracción de ADN de Leishmania [
ver mas...
]
Canine leishmaniasis (CL) is a disease caused by hemoparasites of the genus Leishmania. The parasites are transmitted through sand fly vectors to humans and other mammals, generating tegumentary and visceral clinical cases. Several studies have shown the efficacy of polymerase chain reaction (PCR) for the diagnosis of CL. The objective of this work was to develop a method for Leishmania sp. DNA extraction for its application to the molecular diagnosis of [
ver mas...
]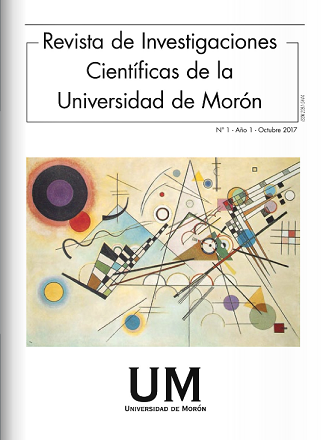 Fuente
Revista de investigaciones científicas de la Universidad de Morón 1 (1) : 11-19. (Octubre 2017)
Editorial
Universidad de Morón
Tipo de documento
artículo
Proyectos (ver más)
INTA/PNSA/1115052/AR./Epidemiología y desarrollo de estrategias para la prevención y control de enfermedades que afectan la salud pública, enfermedades exóticas y limitantes del comercio internacional.
Palabras Claves
Leishmania; Leishmaniasis; Blood Sampling; Muestreo Sanguíneo; ADN; Laboratory Diagnosis; Diagnóstico de Laboratorio; Dogs; Perro;
Derechos de acceso
Restringido

Excepto donde se diga explicitamente, este item se publica bajo la siguiente descripción: Creative Commons Attribution-NonCommercial-ShareAlike 2.5 Unported (CC BY-NC-SA 2.5)