View Item
xmlui.general.dspace_homeCentros Regionales y EEAsCentro Regional Patagonia NorteEEA Valle Inferior del Río NegroTesisxmlui.ArtifactBrowser.ItemViewer.trail
Hacia un desarrollo sustentable de Guardia Mitre
Abstract
Distintos cientistas sociales han intentado dar cuenta de la relación entre las transformaciones de la estructura socioeconómica y política y la fisonomía de las ciudades. Guardia Mitre, no es la excepción. Esta localidad ubicada en el departamento de Adolfo Alsina, Provincia de Río Negro, experimentó importantes cambios en el último siglo. El objetivo de este trabajo fue comprender factores que limitaron el crecimiento e identificar aquellos otros [
ver mas...
]
Different social scientists have tried to account of the relationship between the transformations of the socioeconomic and political structure and the physiognomy of the cities. Guardia Mitre is not the exception. This town located in the department of Adolfo Alsina, Province of Río Negro, experiment important changes in the last century. The objects of this work were to understand factors that limited the growth and identify the other aspects that [
ver mas...
]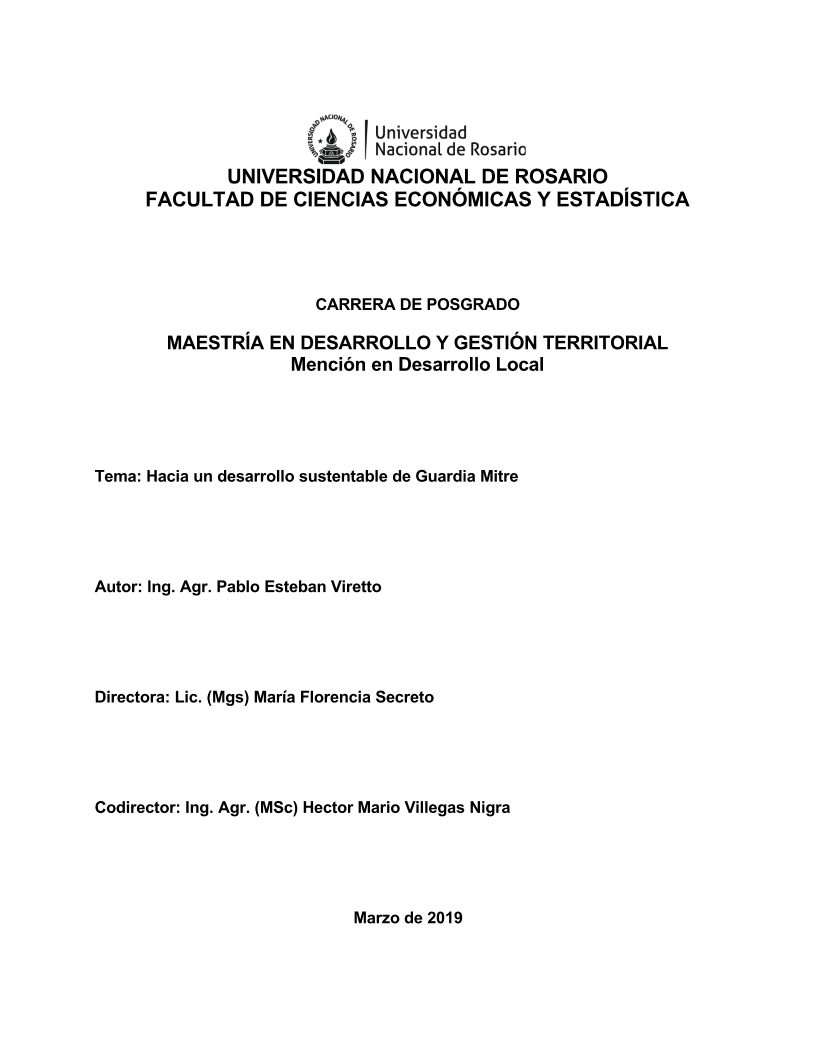 Director de Tesis
Secreto, María Florencia;
Descripción
Tesis para obtener el grado de Maestría en Desarrollo y Gestión Territorial, Mención en Desarrollo Local, presentada en la Carrera de Posgrado, Facultad de Ciencias Económicas y Estadística, Universidad Nacional de Rosario en marzo de 2019
Editorial
Universidad Nacional de Rosario
Tipo de documento
tesis de maestría
Proyectos (ver más)
INTA/PATNOR/1281308/AR./Contribución al desarrollo territorial de la zona atlántica de Río Negro.
Palabras Claves
Territorio; Agricultura Familiar; Territory; Family Farming; Desarrollo Rural; Rural Development; Pobreza; Poverty; Administración Pública; Public Administration; Sostenibilidad; Sustainability; Vulnerabilidad; Guardia Mitre, Río Negro; Vulnerability;
Derechos de acceso
Abierto

Excepto donde se diga explicitamente, este item se publica bajo la siguiente descripción: Creative Commons Attribution-NonCommercial-ShareAlike 2.5 Unported (CC BY-NC-SA 2.5)