View Item
xmlui.general.dspace_homeCentros e Institutos de InvestigaciónCICVyA. Centro de Investigación en Ciencias Veterinarias y AgronómicasInstituto de BiotecnologíaArtículos científicosxmlui.ArtifactBrowser.ItemViewer.trail
Transient expression of VP2 in Nicotiana benthamiana and its use as a plant-based vaccine against Infectious Bursal Disease Virus
Abstract
Infectious Bursal Disease Virus (IBDV) is the etiological agent of an immunosuppressive and highly contagious disease that affects young birds. This disease causes important economic losses in the poultry industry worldwide. The VP2 protein has been used for the development of subunit vaccines in a variety of heterologous platforms. In this context, the aim of this study was to investigate VP2 expression and immunogenicity using an experimental [
ver mas...
]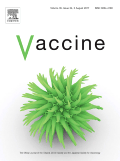 Fuente
Vaccine 31 (23) : 2623-2627 (May 2013)
Tipo de documento
artículo
Palabras Claves
Virus de los Animales; Animal Viruses; Virus Bursitis Infecciosa; Infectious Bursal Disease Virus; Vacuna; Vaccines; Pollo; Chickens; Respuesta Inmunológica; Immune Response; Nicotiana; Nicotiana benthamiana;
Derechos de acceso
Restringido

Excepto donde se diga explicitamente, este item se publica bajo la siguiente descripción: Creative Commons Attribution-NonCommercial-ShareAlike 2.5 Unported (CC BY-NC-SA 2.5)
Related items
Showing items related by title, author, creator and subject.
Pozzi, Elizabeth Alicia

;

Bruno, Cecilia Inés

;

Luciani, Cecilia

;

Celli, Marcos Giovani

;

Conci, Vilma Cecilia

;

Perotto, Maria Cecilia

(

Springer

,

2020-02

)

Environmental heterogeneity can shape the plant-virus relationship, furthering the appearance of new diseases in crops, or altering disease incidence and severity. In this work, we studied the virus association with ...

Celli, Marcos Giovani

;

Torrico Ramallo, Ada Karina

;

Kiehr, Mirta

;

Conci, Vilma Cecilia

(

Springer

,

2013-06

)

Complete nucleotide (nt) and deduced amino acid sequences of two onion yellow dwarf virus (OYDV) isolates showing mild and severe symptoms in onion but being unable to infect garlic were determined. The genomes consisted ...

Carrasco, Franca Denise

;

Brugo Carivali, María Florencia

;

Perotto, Maria Cecilia

;

Balbi, Fernando Dario

;

Ignes, Carlos Mariano

(

EEA Catamarca, INTA

,

2022-04

)

Las enfermedades virales provocan pérdidas económicas muy importantes en numerosos cultivos, incluyendo las cucurbitáceas (melón, pepino, sandía, calabaza y zapallo). Existen un importante número de virus afectándolos en ...