View Item
xmlui.general.dspace_homeCentros Regionales y EEAsCentro Regional Patagonia NorteEEA BarilocheArtículos científicosxmlui.ArtifactBrowser.ItemViewer.trail
Identification and molecular characterization of Orf virus in Argentina
Abstract
Orf virus (ORFV) is the etiological agent of contagious ecthyma (CE), a pustular dermatitis of sheep and goats. Outbreaks of ORFV have been observed in all geographical regions of the world, including Argentina. The origin and identity of Argentinian ORFVs are unknown, and no comparative or phylogenetic studies of these viruses have been performed. In this study, we described the sequencing and analysis of five ORFV molecular markers: a partial B2L gene [
ver mas...
]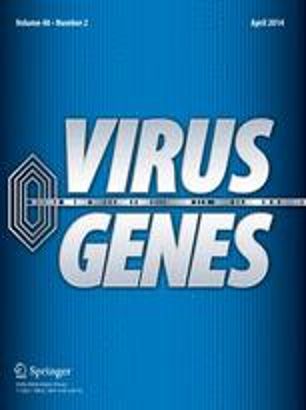 Fuente
Virus Genes 50 (3) : 381–388 (June 2015)
Tipo de documento
artículo
Palabras Claves
Virus de los Animales; Animal Viruses; Parapoxvirus; Virus Ectima Contagioso; Contagious Ecthyma Virus; Ovinos; Sheep; Caprinos; Goats; Marcadores Genéticos; Genetic Markers; Identificación; Identification; Argentina;
Derechos de acceso
Restringido

Excepto donde se diga explicitamente, este item se publica bajo la siguiente descripción: Creative Commons Attribution-NonCommercial-ShareAlike 2.5 Unported (CC BY-NC-SA 2.5)
Related items
Showing items related by title, author, creator and subject.
Pozzi, Elizabeth Alicia

;

Bruno, Cecilia Inés

;

Luciani, Cecilia

;

Celli, Marcos Giovani

;

Conci, Vilma Cecilia

;

Perotto, Maria Cecilia

(

Springer

,

2020-02

)

Environmental heterogeneity can shape the plant-virus relationship, furthering the appearance of new diseases in crops, or altering disease incidence and severity. In this work, we studied the virus association with ...

Celli, Marcos Giovani

;

Torrico Ramallo, Ada Karina

;

Kiehr, Mirta

;

Conci, Vilma Cecilia

(

Springer

,

2013-06

)

Complete nucleotide (nt) and deduced amino acid sequences of two onion yellow dwarf virus (OYDV) isolates showing mild and severe symptoms in onion but being unable to infect garlic were determined. The genomes consisted ...

Agrofoglio, Yamila Carla

;

Delfosse, Veronica Cecilia

;

Casse, Maria Florencia

;

Hopp, Horacio Esteban

;

Bonacic Kresic, Iván

;

Distefano, Ana Julia

(

2017

)

An outbreak of a new disease occurred in cotton (Gossypium hirsutum) fields in northwest Argentina starting in the 2009–10 growing season and is still spreading steadily. The characteristic symptoms of the disease included ...