View Item
xmlui.general.dspace_homeCentros Regionales y EEAsCentro Regional Entre RíosEEA ParanáArtículos científicosxmlui.ArtifactBrowser.ItemViewer.trail
¿Puede wepp mejorar la predicción de la erosión de suelos respecto a USLE? = May wepp improve soil erosion prediction compared to usle?
Abstract
La degradación de los suelos por erosión hídrica afecta su potencial productivo. En el área agrícola argentina este problema está magnificado por la presencia de paisajes ondulados, lluvias intensas y elevada frecuencia de soja. Para estudiar este fenómeno se han desarrollado modelos como la Ecuación Universal de Pérdida de Suelo (USLE) y Water Erosion Prediction Project (WEPP). Localmente se ha ajustado y validado USLE, aunque es necesario contar con [
ver mas...
]
Soil degradation due to water erosion affects the productive potential of arable lands. This problem is magnified by undulated landscapes, intense rains, and high frequency of soybean crops in Argentinean agricultural fields. A number of models were developed to study this phenomenon, including the Universal Soil Loss Equation (USLE) and the Water Erosion Prediction Project (WEPP). Locally, USLE has been adjusted and validated, yet it is necessary to [
ver mas...
]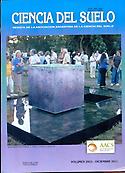 Fuente
Ciencia del suelo 35 (2) : 259-272. (Dic. 2017)
Editorial
Asociación Argentina de la Ciencia del Suelo
Tipo de documento
artículo
Palabras Claves
Erosión Hídrica; Water Erosion; Técnicas de Predicción; Forecasting; Sedimento; Sediment; Universal Soil Loss Equation; Ecuación Universal Pérdida Suelo; Escurrimiento; Runoff; WEPP; USLE; Región Pampena;
Derechos de acceso
Abierto

Excepto donde se diga explicitamente, este item se publica bajo la siguiente descripción: Creative Commons Attribution-NonCommercial-ShareAlike 2.5 Unported (CC BY-NC-SA 2.5)