View Item
xmlui.general.dspace_homeCentros Regionales y EEAsCentro Regional Entre RíosEEA ParanáArtículos científicosxmlui.ArtifactBrowser.ItemViewer.trail
Fitotoxicidad de un formulado comercial de glifosato sobre Lemna gibba L.
Abstract
El objetivo fue evaluar la fitotoxicidad de un formulado comercial de glifosato (sal potásica al 62%, equivalente a 506 g p.a./L) sobre Lemna gibba, a campo y en laboratorio. El estudio a campo se desarrolló en un embalse asociado a un ambiente agrícola. Allí se realizó un análisis temporal, con observaciones en cuatro momentos en función de la proximidad a la fecha de aplicación del herbicida en el lote agrícola y al primer evento de precipitación que [
ver mas...
]
The aim was to evaluate the phytotoxicity of one commercial formulated glyphosate (potassium salt, 62%, 506 g e.a./L) on Lemna gibba in field trials and in controlled laboratory conditions. The field study was conducted in a lentic water body associated with an agro-environment (Entre Ríos, Argentina). We conducted a temporary analysis with observations at four moments according to the proximity of the date of herbicide application in the [
ver mas...
]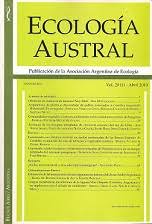 Fuente
Ecología austral 28 (1) : 001-011. (Abril 2018)
Editorial
Asociación Argentina de Ecología
ISSN
1667-782X
0327-5477 (Online)
Tipo de documento
artículo
Derechos de acceso
Abierto

Excepto donde se diga explicitamente, este item se publica bajo la siguiente descripción: Creative Commons Attribution-NonCommercial-ShareAlike 2.5 Unported (CC BY-NC-SA 2.5)