View Item
xmlui.general.dspace_homeCentros Regionales y EEAsCentro Regional Patagonia NorteEEA BarilocheArtículos científicosxmlui.ArtifactBrowser.ItemViewer.trail
Linking reproductive and feeding strategies in the parasitoid Ibalia leucospoides: does feeding always imply profit?
Abstract
Adquisición y asignación de recursos a diferentes funciones biológicas a lo largo de la vida tienen fuertes implicaciones para el éxito reproductivo de los animales. Los animales pueden experimentar diferentes condiciones ambientales durante su vida, y esto puede desempeñar un papel importante en la conformación de sus estrategias de vida y asignación de recursos. En este estudio investigamos la asignación de recursos de larvas y adultos de las funciones [
ver mas...
]
Resource acquisition and allocation to different biological functions over the course of life have strong implications for animal reproductive success. Animals can experience different environmental conditions during their lifetime, and this may play an important role in shaping their life-history and resource allocation strategies. In this study we investigate larval and adult resource allocation to reproductive and survival functions in the parasitoid [
ver mas...
]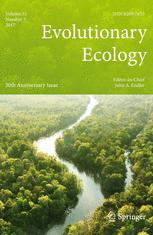 Fuente
Evolutionary ecology 27 (3) : 619–634. (May 2013)
ISSN
0269-7653 (Print)
1573-8477 (Online)
Tipo de documento
article
Palabras Claves
Parasitoides; Parasitoids; Alimentación; Feeding; Comportamiento Reproductivo; Reproductive Behaviour; Ibalia Leucospoides;
Derechos de acceso
Restringido

Excepto donde se diga explicitamente, este item se publica bajo la siguiente descripción: Creative Commons Attribution-NonCommercial-ShareAlike 2.5 Unported (CC BY-NC-SA 2.5)