View Item
xmlui.general.dspace_homeCentros Regionales y EEAsCentro Regional Patagonia NorteEEA BarilocheArtículos científicosxmlui.ArtifactBrowser.ItemViewer.trail
Of volcanoes and insects: the impact of the Puyehue–Cordon Caulle ash fall on populations of invasive social wasps, Vespula spp.
Abstract
Las erupciones volcánicas tienen importantes efectos en los ecosistemas terrestres. Los efectos bióticos de ceniza volcánica en las poblaciones de insectos varian de un generalizado y catastróficoa lo sutil y localizada. Las erupciones volcánicas pueden aumentar la mortalidad de los insectos a través de los correos ECTS . El Complejo Volcán Puyehue - Cordon Caulle es la más reciente erupción en la Patagonia. Aquí nosotros tratamos de explorar y describir [
ver mas...
]
Volcanic eruptions have important effects on terrestrial ecosystems. The biotic effects of volcanic ash on insect populations vary from widespread and catastrophic to subtle and localized. Volcanic eruptions may increase insect mortality through the effects of the ash plume, and these vary by taxon or specific biological features. The Puyehue–Cordon Caulle Volcanic Complex is the most recent eruption in Patagonia. Here we explore and describe the effects [
ver mas...
]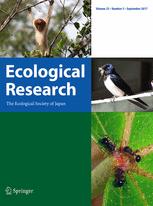 Fuente
Ecological research 28 (2) : 199–205. (March 2013)
ISSN
0912-3814 (Print)
1440-1703 (Online)
Tipo de documento
artículo
Palabras Claves
Vespula; Vespidae; Volcanes; Volcanoes; Erupciones Volcánicas; Volcanic Eruptions; Ceniza; Ashes; Volcan Puyehue, Chile; Puyehue-Cordon Caulle, Chile;
Derechos de acceso
Restringido

Excepto donde se diga explicitamente, este item se publica bajo la siguiente descripción: Creative Commons Attribution-NonCommercial-ShareAlike 2.5 Unported (CC BY-NC-SA 2.5)