View Item
xmlui.general.dspace_homeCentros Regionales y EEAsCentro Regional Entre RíosEEA ConcordiaArtículos científicosxmlui.ArtifactBrowser.ItemViewer.trail
"Harder, better, faster, stronger: Frost tolerance of Eucalyptus benthamii under cold acclimation"
Abstract
Eucalypts are the most planted hardwood trees worldwide because of their very rapid growth, exceptional wood quality and adaptability. However, most commercial species and derived hybrids are sensitive to frost, which remains as the largest obstacle to their introduction in warm/temperate climates. As evergreen species, Eucalypts have developed the ability to tolerate frost events based on physiological and molecular responses triggered by previous [
ver mas...
]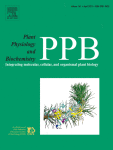 Fuente
Plant Physiology and Biochemistry (Available online 28 June 2022)
Tipo de documento
artículo
Proyectos (ver más)
INTA/2019-PE-E6-I146-001/2019-PE-E6-I146-001/AR./Mejoramiento genético de especies forestales cultivadas de rápido crecimiento: un desarrollo clave para el fortalecimiento de la foresto industria nacional.
Palabras Claves
Eucalyptus; Eucalyptus benthamii; Resistencia a las Heladas; Frost Resistance; Aclimatación; Acclimatization; Metabolismo; Metabolism;
Derechos de acceso
Embargado

Excepto donde se diga explicitamente, este item se publica bajo la siguiente descripción: Creative Commons Attribution-NonCommercial-ShareAlike 2.5 Unported (CC BY-NC-SA 2.5)