View Item
xmlui.general.dspace_homeCentros Regionales y EEAsCentro Regional Buenos Aires NorteEEA PergaminoPresentaciones a Congresosxmlui.ArtifactBrowser.ItemViewer.trail
Radiation use efficiency of alfalfa radiation use efficiency of alfalfa‐tall fescue mixtures in a temperate humid area
Abstract
Alfalfa (Medicago sativa L .) and tall fescue ( Festuca arundinacea Screb .) have ecotypes with different responses to temperature . Hypothetically, combination of germplasm with different patterns of seasonal growth might exhibit advantages in radiation use efficiency ( RUEfa ). In the Humid Pampa region , grass is the main species in these mixtures in winter . However , seasonal transition is crucial to study mechanisms of dry matter accumulation in [
ver mas...
]
La alfalfa (Medicago sativa L .) y la festuca alta (Festuca arundinacea Screb .) tienen ecotipos con diferentes respuestas a la temperatura Hipotéticamente, la combinación de germoplasma con diferentes patrones de crecimiento estacional podría presentar ventajas en la eficiencia del uso de la radiación (RUEfa). En la región de la Pampa Húmeda, la gramínea es la especie principal en estas mezclas en invierno. Sin embargo , la transición estacional es [
ver mas...
]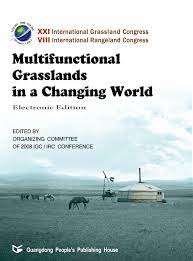 Fuente
XXI International Grassland Congress and VIII International Rangeland Congress. Hohhot, China, June 29 - July 5, 2008.
Editorial
University of Kentucky
Tipo de documento
documento de conferencia
Proyectos (ver más)
INTA/PNPA-1126073/AR./Pasturas ecoeficientes y de bajo carbono en ganadería.
Palabras Claves
Radiation; Radiación; Festuca arundinacea; Medicago sativa; Germplasm; Germoplasma; Alfalfa; Festuca Alta; Tall Fescue;
Derechos de acceso
Abierto

Excepto donde se diga explicitamente, este item se publica bajo la siguiente descripción: Creative Commons Attribution-NonCommercial-ShareAlike 2.5 Unported (CC BY-NC-SA 2.5)