Ver ítem
xmlui.general.dspace_homeCentros Regionales y EEAsCentro Regional Buenos Aires NorteEEA PergaminoPresentaciones a Congresosxmlui.ArtifactBrowser.ItemViewer.trail
Nitrogen and Radiation Use Efficiency in Temperate Pastures Low Quality Soils
Resumen
In the humid pampa of Argentina, tall fescue is used in wet or low fertility soils whereas tall wheatgrass is used in flooded and alkaline environments (Maddaloni y Ferrari 2005). Autumn and winter growth rates are lower than in spring, and higher in tall fescue than in tall wheatgrass. In these species, maximum responses to nitrogen (N) fertilization occurs when it is done at the end of winter, but livestock farmers sometimes fertilize swards in late [
ver mas...
]
En la pampa húmeda de Argentina, la festuca alta se utiliza en suelos húmedos o de baja fertilidad mientras que se usa pasto de trigo alto en ambientes inundados y alcalinos (Maddaloni y Ferrari 2005). Las tasas de crecimiento de otoño e invierno son más bajas.que en primavera, y más alta en festuca alta que en hierba de trigo En estas especies, las respuestas máximas a la fertilización con nitrógeno (N) ocurre cuando se realiza en el finales del [
ver mas...
]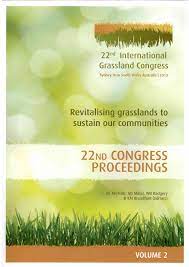 Fuente
Proceedings 22º International Grassland Congress – Uknowledge. College of Agriculture, Food and Enviroment. Plant and Soil, Sydney, 15-19 septiembre 2013.
Editorial
University of Kentucky
Tipo de documento
documento de conferencia
Proyectos (ver más)
INTA/PNPA-1126073/AR./Pasturas ecoeficientes y de bajo carbono en ganadería.
Palabras Claves
Agropyron; Festuca arundinacea; Grasses; Abonos Nitrogenados; Nitrogen Fertilizers; Gramineas; Tall Wheatgrass; Festuca alta; Fertilización Nitrogenada;
Derechos de acceso
Abierto

Excepto donde se diga explicitamente, este item se publica bajo la siguiente descripción: Creative Commons Attribution-NonCommercial-ShareAlike 2.5 Unported (CC BY-NC-SA 2.5)