View Item
xmlui.general.dspace_homeCentros Regionales y EEAsCentro Regional Buenos Aires NorteEEA PergaminoPresentaciones a Congresosxmlui.ArtifactBrowser.ItemViewer.trail
Effect of Plant Density on Yield and Forage Quality of Corn for Silage
Abstract
There is evidence that plant density of maize crops for silage affects herbage yield and quality (Cusicanqui and Lauer 1999). However, most of experimental information comes from trials with a range of plant densities between 20,000 and 140,000 plants per hectare (Pl/ha). This range would be insufficient to establish functional relationships between yield, forage quality, light interception and plant composition (Bertoia 1994). In addition, it is known [
ver mas...
]
Existe evidencia de que la densidad de siembra de los cultivos de maíz para ensilaje afecta el rendimiento y la calidad del forraje (Cusicanqui y Lauer 1999). Sin embargo, la mayor parte de la información experimental proviene de ensayos con un rango de densidades de plantas entre 20 000 y 140 000 plantas por hectárea (Pl/ha). Este rango sería insuficiente para establecer relaciones funcionales entre rendimiento, calidad del forraje, intercepción de luz y [
ver mas...
]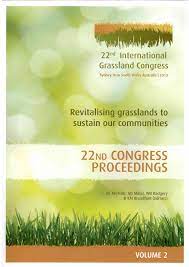 Fuente
Proceedings 22º International Grassland Congress – Uknowledge. College of Agriculture, Food and Enviroment. Plant and Soil, Sydney, 15-19 septiembre 2013.
Editorial
University of Kentucky
Tipo de documento
documento de conferencia
Proyectos (ver más)
INTA/PNPA-1126073/AR./Pasturas ecoeficientes y de bajo carbono en ganadería.
Palabras Claves
Dry Matter; Extracto Seco; Forage; Forrajes; Quality; Calidad; Desiccated Fodders; Forraje Seco; Materia Seca; Composición Vegetal; Intercepción de Luz;
Derechos de acceso
Abierto

Excepto donde se diga explicitamente, este item se publica bajo la siguiente descripción: Creative Commons Attribution-NonCommercial-ShareAlike 2.5 Unported (CC BY-NC-SA 2.5)