View Item
xmlui.general.dspace_homeCentros Regionales y EEAsCentro Regional Buenos Aires NorteEEA PergaminoArtículos científicosxmlui.ArtifactBrowser.ItemViewer.trail
Cover crop mixtures increase ecosystem multifunctionality in summer crop rotations with low N fertilization
Abstract
Cropping diversification with cover crop mixtures combined with low N fertilization represents an ecological alternative that may promote sustainability. Our objective was to evaluate changes on soil organic fractions and structure, cover crop biomass, and main crop yield 5 years after the introduction of two cover crop mixtures, oats+forage radish (CC1) and oats+forage radish+vetch (CC2), in a soybean-soybean and maize-soybean sequence with low N [
ver mas...
]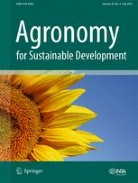 Fuente
Agronomy for Sustainable Development 42 (2) : 19 (April 2022)
Editorial
Springer Nature
ISSN
1774-0746
1773-0155 (online)
Tipo de documento
artículo
Proyectos (ver más)
INTA/2019-PD-E2-I037-002/2019-PD-E2-I037-002/AR./Biodiversidad edáfica: componente clave para una gestión integral y sustentable del recurso suelo
INTA/2019-PE-E1-I011-001/2019-PE-E1-I011-001/AR./Intensificacion Sustentable de la Agricultura en la Region Pampeana
INTA/2019-PD-E3-I062-001/2019-PD-E3-I062-001/AR./Estrategias de producción que incrementen el secuestro de C en suelo para la mitigación del Cambio Climático
Palabras Claves
Maíz; Maize; Soja; Soybeans; Sistemas de Cultivo; Cropping Systems; Suelo; Soil; Carbono Orgánico del Suelo; Soil Organic Carbon; Fertilidad del Suelo; Soil Fertility; Rotación de Cultivos; Crop Rotation; Estructura del Suelo; Soil Structure; Biomasa sobre el Suelo; Above Ground Biomass; Disponibilidad del Agua; Water Availability; Aplicación de Abonos; Fertilizer Application; Fertilización;
Derechos de acceso
Restringido

Excepto donde se diga explicitamente, este item se publica bajo la siguiente descripción: Creative Commons Attribution-NonCommercial-ShareAlike 2.5 Unported (CC BY-NC-SA 2.5)
Related items
Showing items related by title, author, creator and subject.
Bjerring, Anna Trier

;

Peri, Pablo Luis

;

Christiansen, Rodolfo

;

Vargas-Bello-Pérez, Einar

;

Hansen, Hanne Helene

(

IJAB. Friends science publishers

,

2020-08-31

)

Stocking rate adjustment in grazing management is recommended as a management tool to sustain productivity and improve soil health of permanent grassland ecosystems. The aim of this project was to assess the effect of ...

Utrilla, Victor Ricardo

;

Andrade, Miguel Alberto

;

Billoni, Sabrina L.

;

Rogel, Bibiana

;

Peri, Pablo Luis

(

Centro Regional de Investigación Kampenaike, Punta Arenas; Chile.

,

2021

)

En Patagonia, los principales disturbios que afectan los mallines se asocian con variaciones inducidas en la napa freática y el pastoreo intensivo y continuo del ganado (Raffaele 1999). En este contexto, el sobrepastoreo ...

Morras, Hector

;

Moretti, Lucas Martin

;

Piccolo, Gabriel Agustin

;

Zech, Wolfgang H.

(

Elsevier

,

2009-03

)

Deep red soils, combining characteristics of highly weathered materials together with a significant degree of clay illuviation and with stony horizons close to the saprolite, are found in the Province of Misiones, northeastern ...