View Item
xmlui.general.dspace_homeCentros e Institutos de InvestigaciónCIRN. Centro de Investigaciones de Recursos NaturalesInstituto de SuelosArtículos científicosxmlui.ArtifactBrowser.ItemViewer.trail
La variación temporal del índice NDVI predice los cambios temporales de la cobertura vegetal en las tierras secas de la Patagonia argentina
Abstract
La variación temporal del índice NDVI predice los cambios temporales de la cobertura vegetal en las tierras secas de la Patagonia argentina. En las tierras secas, la vegetación natural es una fuente importante de sustento para las comunidades que viven en ellas, dado que la utilizan como alimento, combustible y forraje para el ganado. Además de los bienes y servicios que brinda a las comunidades, la vegetación de las tierras secas también juega un papel [
ver mas...
]
Temporal variations on NDVI predict temporal changes in vegetation cover across Patagonian drylands (Argentina). In drylands, natural vegetation is an important source of livelihood as they provide food, fuel and forage for livestock. In addition to the provision of goods and services, dryland vegetation also plays an important role in many ecological processes, such as recycling nutrients or protecting the soil from erosion. Longterm monitoring of [
ver mas...
]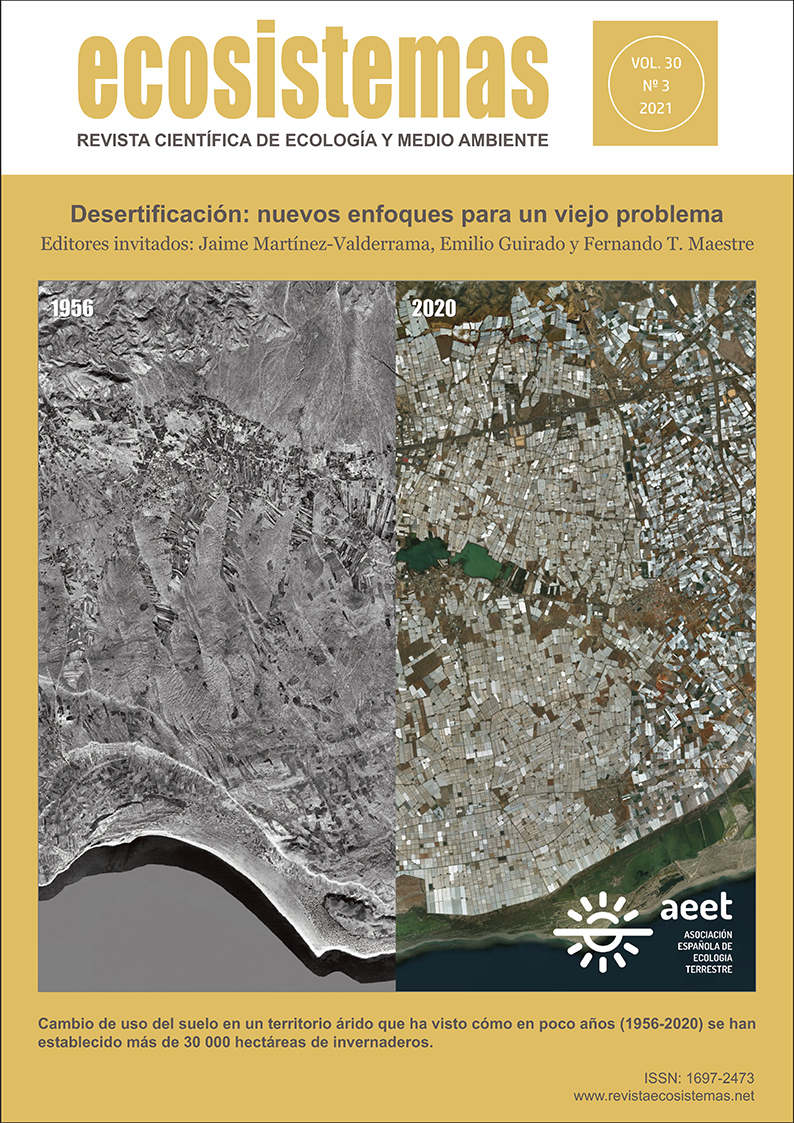 Fuente
Ecosistemas: Revista científica de ecología y medio ambiente 30 (3) : 2229 (2021)
Editorial
Asociación Española de Ecología Terrestre (AEET)
Tipo de documento
artículo
Proyectos (ver más)
INTA/PNNAT-1128035/AR./Observatorios de sustentabilidad rural.
INTA/2019-PE-E2-I040-002/2019-PE-E2-I040-002/AR./Diseño e implementación de un sistema nacional de monitoreo de la degradación a distintas escalas, con meta en la neutralidad de la degradación de tierras.
Palabras Claves
Desertificación; Indicadores; Vigilancia; Sensores; Desertification; Indicators; Monitoring; Sensors; Región Patagónica;
Derechos de acceso
Abierto

Excepto donde se diga explicitamente, este item se publica bajo la siguiente descripción: Creative Commons Attribution-NonCommercial-ShareAlike 2.5 Unported (CC BY-NC-SA 2.5)