View Item
xmlui.general.dspace_homeCentros Regionales y EEAsCentro Regional Mendoza - San JuanEEA MendozaArtículos científicosxmlui.ArtifactBrowser.ItemViewer.trail
Comportamiento alimentario de Frankliniella occidentalis (Pergande) y la incidencia de TSWV (Tomato Spotted Wild Virus) en plantas de papa del cultivar Innovador
Abstract
Los objetivos de este trabajo son: analizar el comportamiento de alimentación de las hembras de Frankliniella occidentalis confinadas individualmente en discos de hoja de papa de seis cultivares y comprobar y comparar la transmisión de TSWV por F. occidentalis a los cultivares de papa Spunta e Innovator con la finalidad de encontrar una posible causa que pueda explicar la mayor incidencia de TSWV en cultivos de papa del cultivar Innovator. La habilidad de [
ver mas...
]
The objectives of this work are: To analyze the feeding behavior of Frankliniella occidentalis females individually confined in leaf disks of six potato cultivars and check and compare the transmission of TSWV by F. occidentalis to Spunta and Innovator potato cultivars with the purpose of finding a possible cause that can explain the higher incidence of TSWV in potato crops of the Innovator cultivar. The ability to transmit TSWV was evaluated in Spunta [
ver mas...
]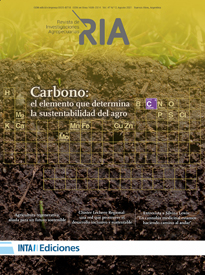 Fuente
RIA 47 (2) : 176-180 (Agosto 2021)
Tipo de documento
artículo
Palabras Claves
Frankliniella occidentalis; Insecta; Papa; Potatoes; Variedades; Varieties; Virus de las Plantas; Plant Viruses; Vectores; Vectors; Virus del Bronceado del Tomate; Tomato Spotted Wilt Virus; Variedad Innovator;
Derechos de acceso
Abierto

Excepto donde se diga explicitamente, este item se publica bajo la siguiente descripción: Creative Commons Attribution-NonCommercial-ShareAlike 2.5 Unported (CC BY-NC-SA 2.5)
Related items
Showing items related by title, author, creator and subject.
Pozzi, Elizabeth Alicia

;

Bruno, Cecilia Inés

;

Luciani, Cecilia

;

Celli, Marcos Giovani

;

Conci, Vilma Cecilia

;

Perotto, Maria Cecilia

(

Springer

,

2020-02

)

Environmental heterogeneity can shape the plant-virus relationship, furthering the appearance of new diseases in crops, or altering disease incidence and severity. In this work, we studied the virus association with ...

Perotto, Maria Cecilia

(

EEA San Pedro, INTA

,

2022

)

Las principales virosis que afectan al zapallito redondo son las producidas por virus del género Potyvirus. Hay 4 especies de este grupo presentes en Argentina, estos son: Watermelon mosaic virus (WMV), Zucchini yellow ...

Celli, Marcos Giovani

;

Torrico Ramallo, Ada Karina

;

Kiehr, Mirta

;

Conci, Vilma Cecilia

(

Springer

,

2013-06

)

Complete nucleotide (nt) and deduced amino acid sequences of two onion yellow dwarf virus (OYDV) isolates showing mild and severe symptoms in onion but being unable to infect garlic were determined. The genomes consisted ...