View Item
xmlui.general.dspace_homeCentros Regionales y EEAsCentro Regional Patagonia SurEEA Santa CruzPresentaciones a congresosxmlui.ArtifactBrowser.ItemViewer.trail
Un marco ecológico para establecer márgenes de manejo de sistemas silvopastoriles. 2- El caso de ñirantales de Patagonia Sur, Argentina.
Abstract
Para el uso sustentable de los sistemas silvopastoriles en ñirantales, se requiere entre otras cosas, conocer su dinámica y el manejo para mantener en el largo plazo los principales servicios ecosistémicos del bosque. El objetivo de este trabajo fue realizar un modelo de los estados y transiciones (ME&T) para los bosques de ñire en el sur de la Patagonia. Para ello se analizó información del inventario provincial de ñire de Santa Cruz, la red de parcelas [
ver mas...
]
The sustainable use of silvopastoral systems in ñire forests requires knowledge of its dynamics and management to maintain long-term major forest ecosystem services. The aim of this work was to develop a states and transitions model (E&TM) for ñire forests in southern Patagonia. For this, provincial inventory information was analyzed together with information from permanent plots PEBANPA (Plots of Ecology and Biodiversity, Natural Environments in [
ver mas...
]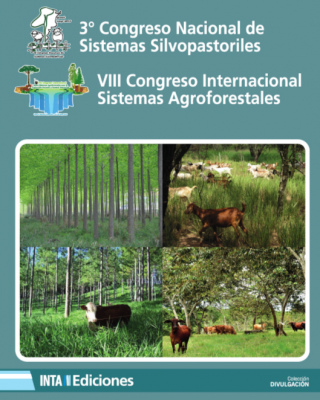 Fuente
Actas 3° Congreso Nacional de Sistemas Silvopastoriles : VII Congreso Internacional Sistemas Agroforestales, Iguazú, Misiones, 7-9 de mayo de 2015. p. 641-645
Tipo de documento
documento de conferencia
Palabras Claves
Sistemas Silvopascícolas; Silvopastoral Systems; Ordenación Forestal; Forest Management; Sostenibilidad; Sustainability; Resiliencia; Resilience; Degradación Ambiental; Environmental Degradation; Modelos; Models; Red PEBANPA; PEBANPA Network; Ñirantal; Modelos de Estados y Transiciones; State and Transition Model; Región Patagónica;
Derechos de acceso
Abierto

Excepto donde se diga explicitamente, este item se publica bajo la siguiente descripción: Creative Commons Attribution-NonCommercial-ShareAlike 2.5 Unported (CC BY-NC-SA 2.5)