View Item
xmlui.general.dspace_homeCentros Regionales y EEAsCentro Regional La Pampa - San LuisEEA San LuisTesisxmlui.ArtifactBrowser.ItemViewer.trail
Evaluación de líneas de cucurbita maxima con mejores aptitudes para la producción de semilla híbrida en cruzamientos con c. moschata
Abstract
El género Cucurbita incluye algunas de las especies más antiguamente cultivadas por la humanidad, de las que se aprovechan sus frutos comestibles. El mejoramiento apunta hacia la generación de híbridos con mejor calidad de frutos tanto para el consumo en fresco como para el deshidratado. El éxito del cruzamiento para la producción de híbridos (F1) enfrenta distintos problemas a medida que los individuos se encuentran menos emparentados entre sí. En la [
ver mas...
]
The genus Cucurbita includes some of the oldest species cultivated for their edible fruits by humankind. Nowadays, breeding strategies points to the generation of hybrids to improve fruit quality for both fresh and dehydrated products consumption. The success of breeding techniques to produce hybrids (F1) faces different challenges as parental individuals are less related to each other. In the breeding program developed at the Agricultural Experimental [
ver mas...
]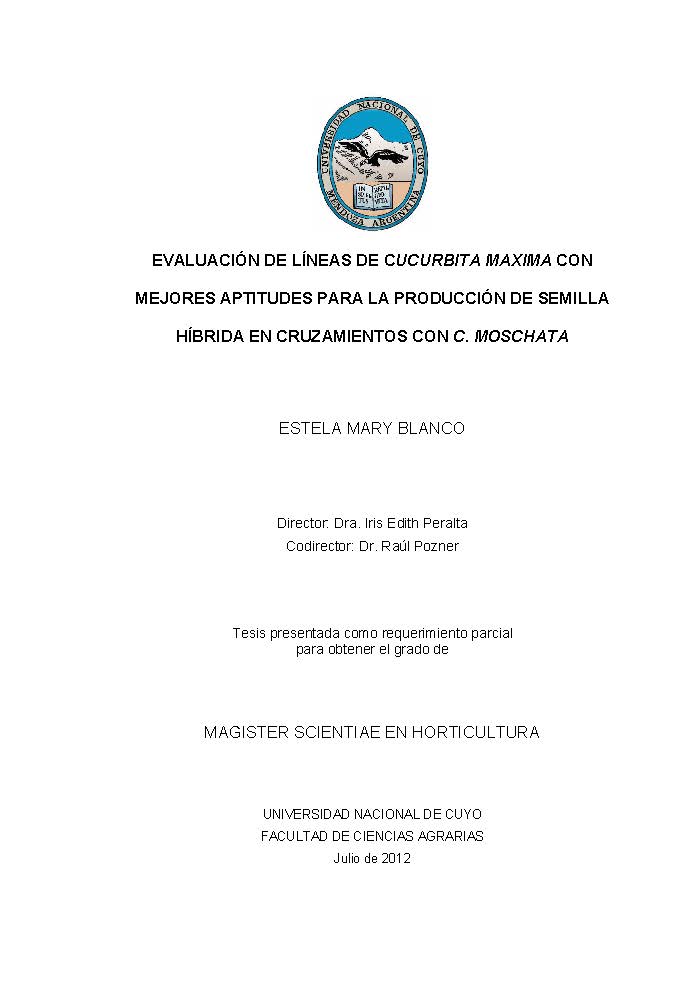 Director de Tesis
Peralta, Iris Edith;
Pozner, Raul;
Descripción
Tesis para optar al título de Magister Scientiae en Horticultura, de la Universidad Nacional de Cuyo, en julio de 2012
Editorial
Facultad de Ciencias Agraria, Universidad Nacional de Cuyo
Tipo de documento
tesis de maestría
Palabras Claves
Calabaza (cucúrbita); Semilla; Horticultura; Cruzamiento; Pumpkins; Cucurbita; Seeds; Horticulture; Crossbreeding; Cucurbita moschata; Cucurbita maxima;
Derechos de acceso
Abierto

Excepto donde se diga explicitamente, este item se publica bajo la siguiente descripción: Creative Commons Attribution-NonCommercial-ShareAlike 2.5 Unported (CC BY-NC-SA 2.5)
Related items
Showing items related by title, author, creator and subject.
Tarnowski, Christian

;

Valdez, Jorge Gustavo

;

Lorello, Ines Maria

;

Barboza Rojas, Karina

;

Cavagnaro, Pablo

;

Della Gaspera, Pedro

(

ASAHO

,

2022-01

)

Aconcagua INTA is an Argentine widespread cucurbit cultivar with high yield and suitability for the dehydration industry, developed from an interspecific cross (Cucurbita maxima x Cucurbita moschata). Its seed production ...

Servera, Juan Agustin

;

Añazgo, Monica Fabiana

(

EEA Valle Inferior, INTA

,

2010-04-09

)

Servera, Juan Agustin

;

Añazgo, Monica Fabiana

(

EEA Valle Inferior, INTA

,

2010-04-10

)