View Item
xmlui.general.dspace_homeCentros Regionales y EEAsCentro Regional Patagonia NorteEEA BarilocheArtículos científicosxmlui.ArtifactBrowser.ItemViewer.trail
Identificación del origen genético de un rodal semillero implantado de Nothofagus obliqua a través del análisis de dos regiones inter-génicas de ADN de cloroplasto
Abstract
En planes de forestación, tanto con fines productivos como de conservación, la correcta elección de la fuente de semilla para utilizar es un factor clave. El área productora de semilla (APS) "Trevelin" de Nothofagus obliqua fue instalada en el año 1997 en la Estación Agroforestal de INTA Trevelin, provincia de Chubut. Esta APS está conformada por individuos de origen cuenca Lácar (procedencia Hua Hum), mientras que el resto de los individuos se produjo a [
ver mas...
]
In afforestation programs, both for productive and conservation purposes, the use of the correct seed source is a key factor. The Nothofagus obliqua 'Trevelin' seed production area (SPA) was installed during 1997 at INTA Agroforestry Station, Chubut province. 'Trevelin' SPA has two different origins. While some individuals were produced with seeds belonging to Lácar forests in Argentina (Hua Hum provenance), the rest of the seedlings were produced with [
ver mas...
]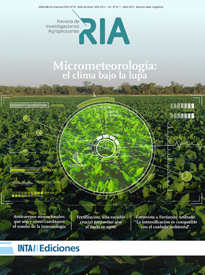 Fuente
RIA 47 (1) : 116-122 (Abril 2021)
Tipo de documento
artículo
Proyectos (ver más)
INTA/PNFOR-1104063/AR./Mejoramiento genético de especies forestales nativas de alto valor.
Palabras Claves
Nothofagus; Variedades; Varieties; Genética; Genetics; Cloroplasto; Chloroplasts; ADN; DNA; Nothofagus obliqua; Región Patagónica;
Derechos de acceso
Abierto

Excepto donde se diga explicitamente, este item se publica bajo la siguiente descripción: Creative Commons Attribution-NonCommercial-ShareAlike 2.5 Unported (CC BY-NC-SA 2.5)