View Item
xmlui.general.dspace_homeCentros Regionales y EEAsCentro Regional Patagonia SurEEA Santa CruzArtículos científicosxmlui.ArtifactBrowser.ItemViewer.trail
Changes in forest structure values along the natural cycle and different management strategies in Nothofagus antarctica forests
Abstract
Ecologically sustainable forest management aims to preserve ecosystem integrity by providing wood and non-wood values. For this, it is necessary to determine the losses produced by the different management practices in natural forest resilience. The aim was to determine changes in forest structure values along the natural cycle and human impacts generated by rural timber, pastoral and silvopastoral uses in managed, unmanaged, and transformed Nothofagus [
ver mas...
]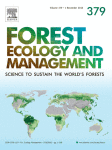 Author
Martínez Pastur, Guillermo José; Rosas, Yamina Micaela; Chaves, Jimena Elizabeth; Cellini, Juan Manuel; Barrera, Marcelo Daniel; Favoretti Bondar, Santiago; Lencinas, María Vanessa;
Peri, Pablo Luis;
Fuente
Forest Ecology and Management 486: 118973 (April 2021)
Tipo de documento
artículo
Derechos de acceso
Restringido

Excepto donde se diga explicitamente, este item se publica bajo la siguiente descripción: Creative Commons Attribution-NonCommercial-ShareAlike 2.5 Unported (CC BY-NC-SA 2.5)
Related items
Showing items related by title, author, creator and subject.
Rusch, Veronica Elena

(

Ediciones INTA

,

2017

)

Par el empleo del protocolo, se propone pensar la evaluación como si fuera en una tabla donde se incluya cada una de las preguntas a considerar en la primera columna. La evaluación me permitirá responder si el aspecto de ...

Peri, Pablo Luis

(

Colegio de Graduados en Ciencias Forestales de Santiago de Estero

,

2020

)

Los bosques nativos en Argentina, con su gran variedad de ecosistemas que incluyen desde selvas subtropicales hasta bosques subantárticos, brindan a la sociedad diferentes servicios ecosistémicos (alimentos, agua, madera, ...

Peri, Pablo Luis

;

Lasagno, Romina Gisele

;

Mónaco, Martín H.

;

Monelos, Lucas H.

;

Mattenet, Francisco Javier

(

Consejo Agrario Provincial de Santa Cruz (CAP)

,

2020-03

)

El Ñire (Nothofagus antarctica) es una especie forestal nativa que se caracteriza por su gran plasticidad adaptándose a una gran variedad de condiciones ambientales ocupando sitios con exceso de humedad (turberas y mallines) ...