View Item
xmlui.general.dspace_homeCentros Regionales y EEAsCentro Regional Mendoza - San JuanEEA JunínArtículos científicosxmlui.ArtifactBrowser.ItemViewer.trail
Characterization of virgin olive oils from Spanish olive varieties introduced in Mendoza, Argentina and their comparison with the autochthonous variety
Abstract
BACKGROUND: The aim of this work was to evaluate and compare oil production and its quality in three Spanish olive varieties (Genovesa , Villalonga and Nevadillo blanco ) growing outside the Mediterranean basin with the Argentine autochthonous variety (Arauco ). Parameters on fruits and oil characteristics were evaluated on samples collected from Germplasm Collection of Mendoza province and elaborated in the same place. RESULTS: The levels of phenolic [
ver mas...
]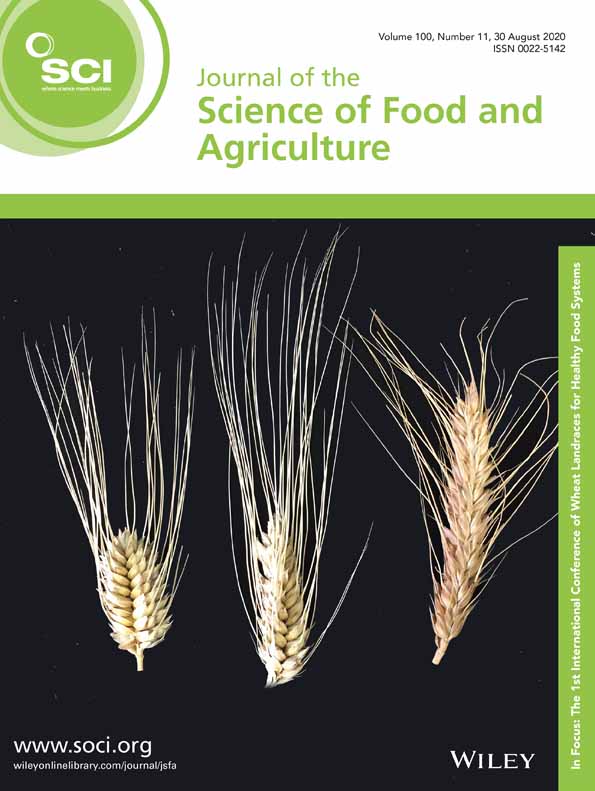 Fuente
Journal of the Science of Food and Agriculture (First published: 9 July 2020)
Tipo de documento
artículo
Palabras Claves
Olea europaea; Variedades; Varieties; Variedades Indígenas; Land Varieties; Variedades Naturalizadas; Introduced Varieties; España; Argentina; Aceite de Oliva; Olive Oil; Olivo; Mendoza, Argentina;
Derechos de acceso
Embargado

Excepto donde se diga explicitamente, este item se publica bajo la siguiente descripción: Creative Commons Attribution-NonCommercial-ShareAlike 2.5 Unported (CC BY-NC-SA 2.5)
Related items
Showing items related by title, author, creator and subject.
Wehrhahne, Nilda Liliana

(

2015-05

)

A lo largo de su historia, la Chacra ha contribuído al desarrollo agropecuario de la región lanzando nuevos cultivares de avena, cebada cervecera, lino, girasol, trigo pan y trigo candeal. Hoy continúa mejorando avena, ...

Di Pane, Francisco

(

2017-07

)

Desde sus inicios en 1923 la Chacra Experimental Integrada Barrow realiza mejoramiento genético de trigo pan. En los últimos 30 años se han inscripto 12 cultivares de esta especie creados por el fitomejoramiento local, con ...

Gentili, Oscar Alfredo

;

Casasola Farre, Erica Alejandra

;

Almada, Gustavo

;

Vita Larrieu, Eduardo Alberto

;

Loto, Ariel Roberto

;

Pagani, Ricardo

;

Mendez, Jose Maria

;

Condori, Alicia Adelina

;

Boero, Leandro Ruben

;

Calcha, Jose Alfredo Nicolas

;

Malmantile, Alberto

;

Manlla, Amalia Graciela

(

Estación Experimental Agropecuaria Oliveros, INTA

,

2021

)

Resultados de la Red de Ensayos de trigo del Centro-Sur de Santa Fe 2020/21. Investigadores y extensionistas de la Estación Experimental Agropecuaria INTA Oliveros y de las Agencias de Extensión Rural del Sur de Santa Fe ...