View Item
xmlui.general.dspace_homeCentros Regionales y EEAsCentro Regional Buenos Aires SurEEA BalcarceTesisxmlui.ArtifactBrowser.ItemViewer.trail
Efectos de los sistemas de labranza de los cereales sobre los organismos perjudiciales y benéficos del suelo en el sudeste bonaerense (Argentina)
Abstract
El objetivo de esta Tesis fue estudiar las poblaciones de organismos perjudiciales y benéficos durante el desarrollo de los cultivos de trigo y maíz en siembra directa (SD) y laboreo convencional (LC) en el sudeste de la provincia de Buenos Aires. El estudio fue realizado sobre 46 lotes comerciales durante los ciclos agrícolas 2002/03, 2003/04 y 2004/05. En cada lote se tomaron muestras de suelo y se colocaron trampas pitfall para determinar el número de [
ver mas...
]
The objective of the Thesis was to determine the damaging and beneficial organisms in no-till (SD) and conventional till (LC) wheat and corn crops in the south-east of the Buenos Aires province. The study was carried out in 46 commercial plots during the 2002/03, 2003/04 and 2004/05 growing seasons. In each plots soil samples were taken and pitfall traps displayed in order to determine the number of individuals of the macrofauna and mesofauna and the [
ver mas...
]
L'objectiu d'aquesta Tesi fou estudiar les poblacions d'organismes perjudicials i beneficiosos durant el desenvolupament dels cultius de blat i panís en sembra directa (SD) i conreu convencional (LC) en el sud-est de la província de Buenos Aires. L'estudi es va fer en 46 camps comercials durant les campanyes 2002/03, 2003/04 i 2004/05. En cada camp es van prendre mostres de sòl i es van disposar trampes pitfall per a determinar el nombre d'individus de la [
ver mas...
]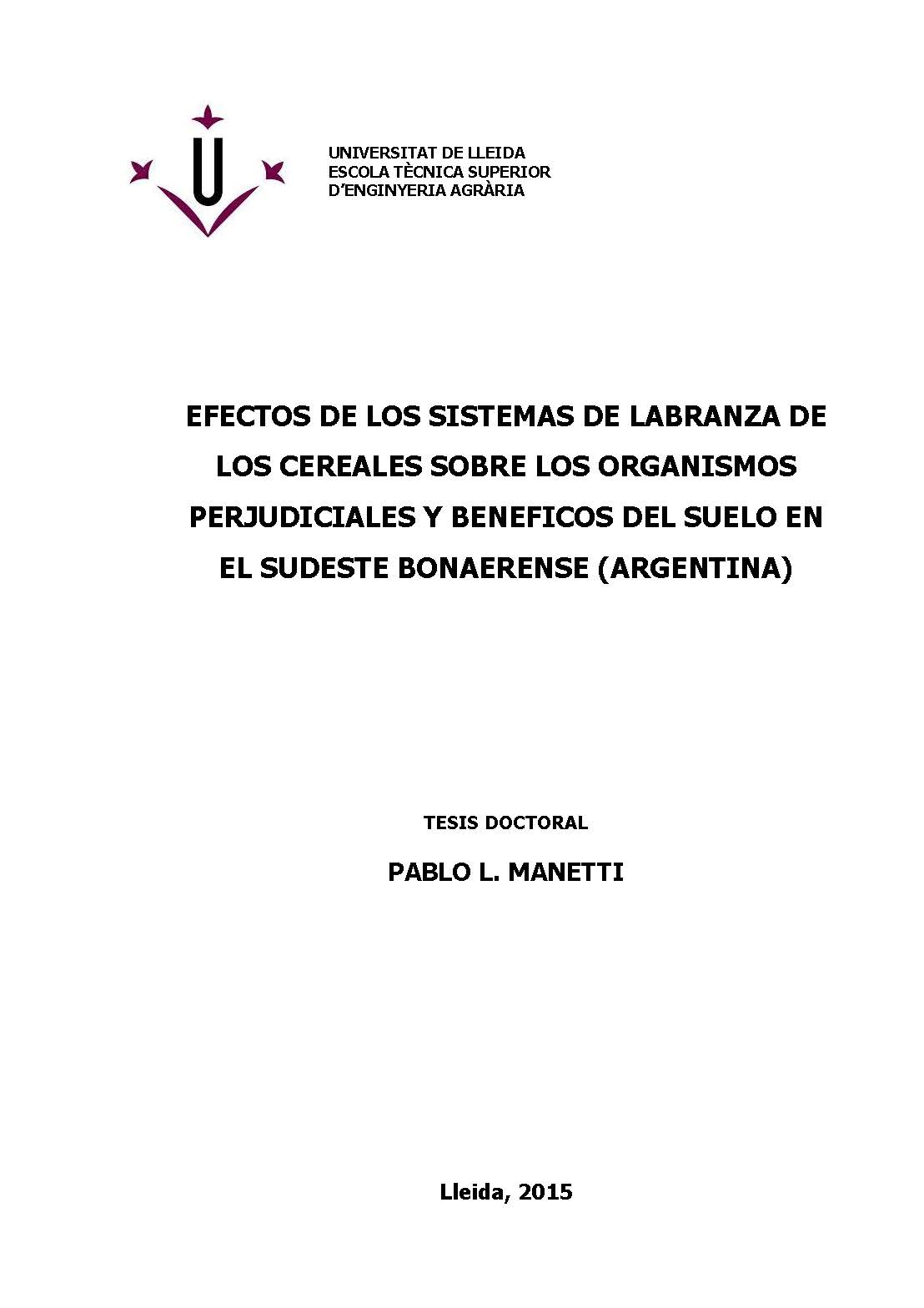 Descripción
Tesis para obtener el grado de Doctor, de la Universitat de Lleida (España), en 2015
Editorial
Departament de Producció Vegetal i Ciència Forestal, Universitat de Lleida
Tipo de documento
tesis doctoral
Palabras Claves
Cereales; Cereals; Cultivos de Cereales; Cereal Crops; Trigo; Wheat; Maíz; Maize; Siembra Directa; Direct Sowing; Labranza Convencional; Conventional Tillage; Organismos del Suelo; Soil Organisms; Fauna del Suelo; Soil Fauna; Buenos Aires, Argentina;
Derechos de acceso
Abierto

Excepto donde se diga explicitamente, este item se publica bajo la siguiente descripción: Creative Commons Attribution-NonCommercial-ShareAlike 2.5 Unported (CC BY-NC-SA 2.5)
Related items
Showing items related by title, author, creator and subject.
Accoroni, Cecilia

(

Facultad Regional Rosario, Universidad Tecnológica Nacional

,

2015-02

)

El desarrollo de este trabajo surge como respuesta a la demanda actual de nuestra región de agregar valor en origen al subproducto derivado de la extracción de aceite por el método de Extrusado y prensado; el expeller. ...

Rolandelli, Guido

;

Farroni, Abel Eduardo

;

Buera, María del Pilar

(

Wiley

,

2022-11

)

Corn-based snacks were prepared with the addition of 25% of millet, sorghum, quinoa, and canary seed flours, which are scarcely used grains for human food and can grow in low-fertility soils. GuggenheimAnderson-de Boer (GAB) ...

Erenstein, Olaf

;

Gérard, Bruno

;

Tittonell, Pablo Adrian

(

2015-03

)

Agricultural systems variously produce food, feed, fiber, fuel, and environmental goods. The relative emphasis varies over space and time – associated inter alia to inter-related developments in demand, technology and ...