View Item
xmlui.general.dspace_homeCentros Regionales y EEAsCentro Regional Buenos Aires SurEEA BalcarceTesisxmlui.ArtifactBrowser.ItemViewer.trail
Influencia de los tratamientos con polietilenglicol o urea, textura del endosperma y estado fenológico sobre el grano de sorgo
Abstract
Se realizaron 8 experimentos para determinar los efectos de la textura del endosperma, la humedad de cosecha (HC), el proceso de ensilado, y el agregado de PEG-4000 o urea, sobre el valor nutricional de granos de sorgos. Se evaluaron los efectos de HC (35, 25 y 14%) y humedad de incubación (HI: 0% y la humedad correspondiente a cada momento de cosecha), y del proceso de ensilado (experimentos 1 y 2 respectivamente) de granos con alto (AT) y bajo (BT) [
ver mas...
]
Eight experiments were carried out to study the effects of the endosperm texture, harvest moisture (HM), ensilage and PEG-4000 or urea treatment on the nutritional value of high moisture sorghum grains with different tannin concentration. The effects of HM and ensiling process (experiments 1 and 2 respectively) of high- tannin (HT) and low-tannin (LT) grain on in situ disappearance (ISDEG) and tannin deactivation. Treatments were: HM (35, 25 and 14%), [
ver mas...
]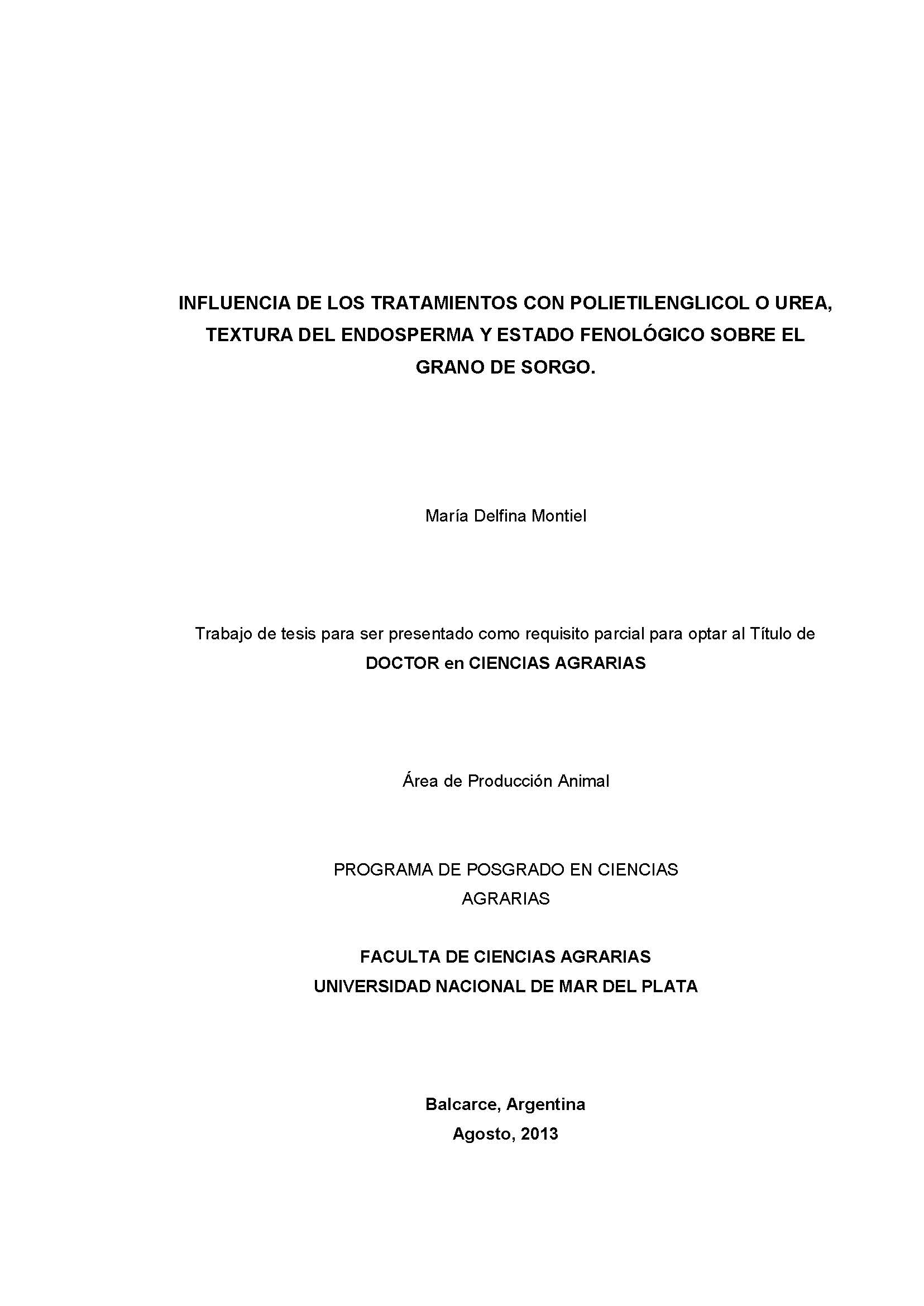 Director de Tesis
Elizalde, Juan Carlos (Director);
Descripción
Tesis para obtener el grado de Doctor en Ciencias Agrarias presentada en la Facultad de Ciencias Agrarias, Universidad Nacional de Mar del Plata en Agosto de 2013.
Editorial
Facultad de Ciencias Agrarias, Balcarce. Universidad Nacional de Mar del Plata
Tipo de documento
tesis doctoral
Palabras Claves
Buey; Bullocks; Taninos; Tannins; Cosecha; Harvesting; Ganancia de Peso; Weight Gain; Humedad; Humidity; Sorghum; Valor Nutritivo; Nutritive Value; Novillo;
Derechos de acceso
Abierto

Excepto donde se diga explicitamente, este item se publica bajo la siguiente descripción: Creative Commons Attribution-NonCommercial-ShareAlike 2.5 Unported (CC BY-NC-SA 2.5)