View Item
xmlui.general.dspace_homeCentros Regionales y EEAsCentro Regional Buenos Aires SurEEA BalcarceTesisxmlui.ArtifactBrowser.ItemViewer.trail
Variación de los niveles sanguíneos de macro y micro minerales, en bovinos para carne expuestos a exceso de ión fluoruro en la alimentación.
Abstract
La causa más frecuente de eliminación de una vaca de cría de un rodeo es su desgaste dental, aunque el resto del organismo pueda seguir funcionando sin inconvenientes. Este desgaste puede llevar a una reducción en el 50% de la vida útil potencial de un bovino. Las causas que producen desgaste dental y que establecen la variabilidad de esta característica se pueden clasificar en ambientales y genéticas. Estas últimas no fueron puestas en evaluación en este [
ver mas...
]
In cattle, age is estimated by examining the degree of wear of permanent incisor teeth in order to aid culling decisions. Although cows are culled due to excessive dental wear, they are usually still functional. However, productive life is usually reduced to 50% due to several causes, including premature dental wear. Dental wear can be influenced by environmental and genetic factors. Among environmental causes, quality of drinkable water are the main [
ver mas...
]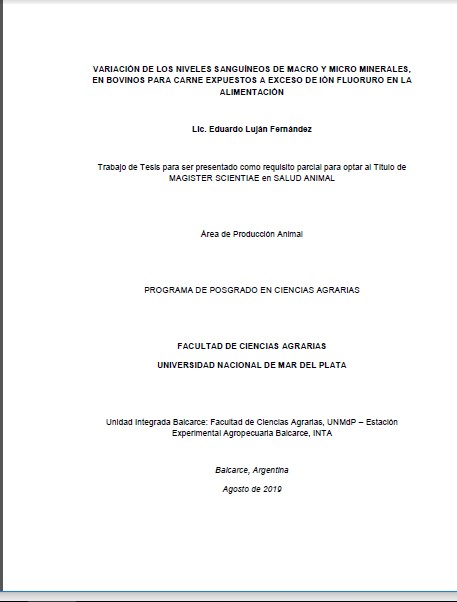 Descripción
Tesis de maestría para obtener el grado de Magister Scientiae en Producción Animal presentada en la Facultad de Ciencias Agrarias, Universidad Nacional de Mar del Plata en Agosto de 2019.
Editorial
Facultad de Ciencias Agrarias, Balcarce, Universidad Nacional de Mar del Plata
Tipo de documento
tesis de maestría
Palabras Claves
Fluoruros; Flurorides; Dientes; Teeth; Desgaste; Wear; Ganado Bovino; Cattle; Minerals; Calidad del Agua; Water Quality; Minerales;
Derechos de acceso
Abierto

Excepto donde se diga explicitamente, este item se publica bajo la siguiente descripción: Creative Commons Attribution-NonCommercial-ShareAlike 2.5 Unported (CC BY-NC-SA 2.5)