View Item
xmlui.general.dspace_homeCentros Regionales y EEAsCentro Regional Mendoza - San JuanEEA MendozaTesisxmlui.ArtifactBrowser.ItemViewer.trail
Relaciones entre cavitación y cierre estomático en vides sometidas a déficit hídrico
Abstract
La cavitación es una disfunción fisiológica que ocurre en el xilema de las plantas cuando estas están bajo déficit hídrico, y que entraña una pérdida de su conductancia hidráulica (kL), cuando algunos vasos se llenan de aire. Esto incide negativamente sobre la oferta de agua y afecta el potencial hídrico foliar (ΨL) y la hidratación de la canopia. El cierre estomático es una respuesta efectiva ante la disminución del contenido hídrico. Dependiendo de la [
ver mas...
]
Cavitation is a physiological dysfunction that takes place in the xylem of plants under water stress. It leads to a loss of hydraulic conductance as the vessels are filled with air. This has a negative impact on water supply and affects ΨL and canopy hydration. Stomatal clossure is an effective response upon diminishing momentary or seasonal foliar hydraulic contents. Depending on each type of plant, stomata may close preventing catastrophic cavitations. [
ver mas...
]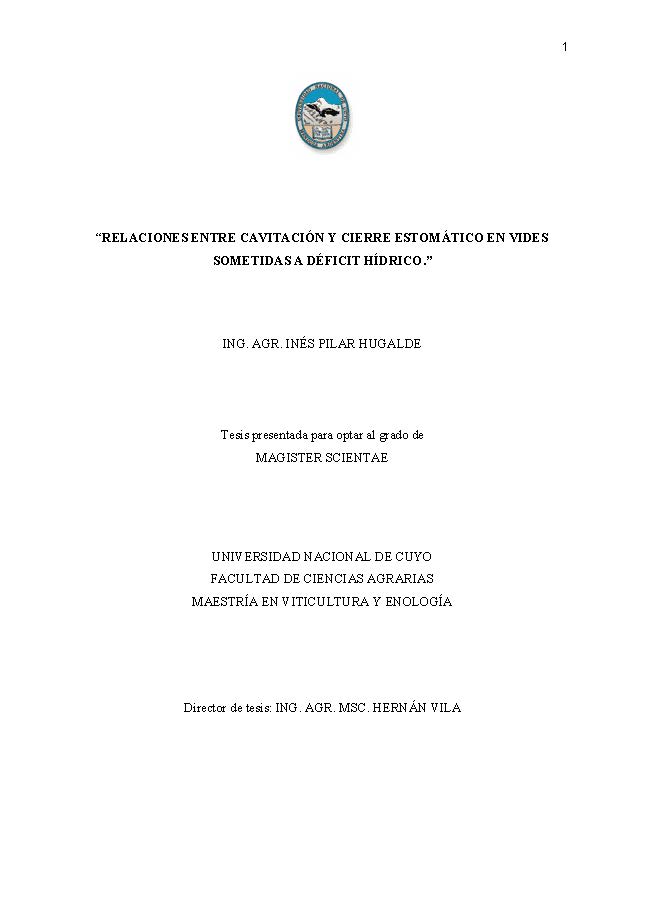 Descripción
Tesis para obtener el grado de Magister Scientiae en Viticultura y Enología, de la Universidad Nacional de Cuyo, en 2011
Editorial
Facultad de Ciencias Agrarias, Universidad Nacional de Cuyo.
Tipo de documento
tesis de maestría
Palabras Claves
Viticultura; Viticulture; Vid; Grapevines; Xilema; Xylem; Trastornos Funcionales; Functional Disorders; Conductancia Estomática; Stomatal Conductance; Recursos Hídricos; Water Resources; Cavitación; Déficit Hídrico;
Derechos de acceso
Abierto

Excepto donde se diga explicitamente, este item se publica bajo la siguiente descripción: Creative Commons Attribution-NonCommercial-ShareAlike 2.5 Unported (CC BY-NC-SA 2.5)