View Item
xmlui.general.dspace_homeCentros Regionales y EEAsCentro Regional Buenos Aires SurEEA BalcarceTesisxmlui.ArtifactBrowser.ItemViewer.trail
Circulación y caracterización molecular de Rotavirus y Escherichia coli asociados a diarrea neonatal y septicemia en terneros
Abstract
Rotavirus, coronavirus y Escherichia coli son causas frecuentes de diarrea y septicemia en terneros neonatos y producen importantes pérdidas económicas. Si bien en Argentina hay estudios de ambos virus, es necesario disponer de información epidemiológica actualizada. Por otra parte, en nuestro país hay escasa información con respecto a los atributos de virulencia de E. coli asociada a diarrea y septicemia en terneros. Esta información es [
ver mas...
]
Rotavirus, coronavirus and Escherichia coli are important etiologies of neonatal calf diarrhea and septicemia. Both diseases have a great economic impact on livestock industry. Although both viruses have been studied in Argentina, current epidemiologic information is further needed. On the other hand, knowledge regarding the virulence attributes of E. coli associated to diarrhea and septicemia is scarce in our country. This information is [
ver mas...
]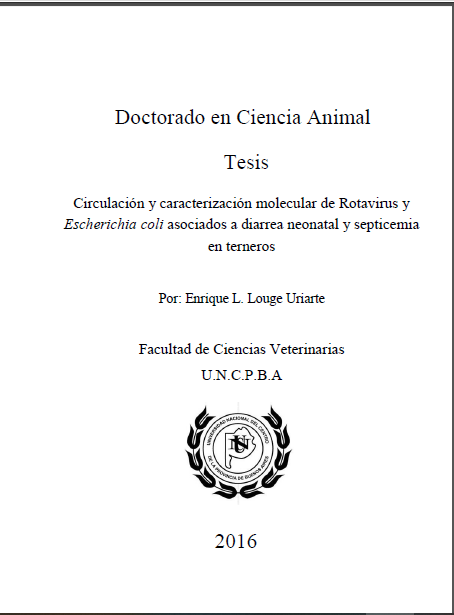 Director de Tesis
Parreño, Viviana (Codirector);
Esteban, Eduardo (Codirector);
Descripción
Tesis de doctorado para obtener el título de Doctor en Ciencia Animal presentada en la Universidad Nacional del Centro de la Provincia de Buenos Aires, Facultad de Ciencias Veterinarias, Tandil, Buenos Aires, Argentina en 2016.
Editorial
Universidad Nacional del Centro de la Provincia de Buenos Aires, Facultad de Ciencias Veterinarias
Tipo de documento
tesis doctoral
Palabras Claves
Ternero; Calves; Diarrea; Diarrhoea; Septicemia; Septicaemia; Rotavirus; Genotipos; Genotypes; Escherichia coli; Enfermedades de los Animales; Animal Diseases;
Derechos de acceso
Abierto

Excepto donde se diga explicitamente, este item se publica bajo la siguiente descripción: Creative Commons Attribution-NonCommercial-ShareAlike 2.5 Unported (CC BY-NC-SA 2.5)