View Item
xmlui.general.dspace_homeCentros e Institutos de InvestigaciónCICVyA. Centro de Investigación en Ciencias Veterinarias y AgronómicasInstituto de BiotecnologíaArtículos científicosxmlui.ArtifactBrowser.ItemViewer.trail
Detección de un complejo clonal con el genotipo de Brucella abortus biovariedad 2 como fundador en aislamientos de B. abortus de Argentina = Detection of a clonal complex with Brucella abortus biovar 2 genotype as founder in B. abortus isolates from Argentina
Abstract
Brucella abortus es el agente causal de la brucelosis bovina, enfermedad zoonótica que se encuentra ampliamente distribuida en el mundo. Actualmente existen ocho biovariedades de B. abortus. En Argentina se encuentra con mayor frecuencia la biovariedad 1, pero también se suele aislar la biovariedad 2, que es más patogénica que la anterior. Resulta necesario contar con métodos de tipificación que tengan la resolución suficiente para permitir el seguimiento [
ver mas...
]
Brucella abortus is the causative agent of bovine brucellosis, a worldwide zoonosis. Up to date, eight biovars of B. abortus have been described. In Argentina, biovar 1 is the most frequently isolated. However, biovar 2, which is more pathogenic than biovar 1, is also found. Molecular methods for subtyping isolates are necessary for allowing epidemiological surveillance and control of eradication programs. Due to the genetic homogeneity of the genus [
ver mas...
]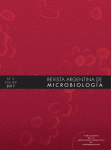 Fuente
Revista Argentina de Microbiología 45 (4) : 229-239 (October–December 2013)
Editorial
Asociación Argentina de Microbiología
Tipo de documento
artículo
Palabras Claves
Brucella Abortus; Enfermedades de los Animales; Animal Diseases; Genotipos; Genotypes; Epidemiología; Epidemiology; Brucelosis; Brucellosis; Argentina;
Derechos de acceso
Abierto

Excepto donde se diga explicitamente, este item se publica bajo la siguiente descripción: Creative Commons Attribution-NonCommercial-ShareAlike 2.5 Unported (CC BY-NC-SA 2.5)
Related items
Showing items related by title, author, creator and subject.
Rojas, Maria Del Carmen

;

Fort, Marcelo Cristian

;

Bettermann, Simone

;

Entrocassi, Carolina

;

Costamagna, Sixto Raúl

;

Sachse, Konrad

;

Rodríguez Fermepin, Marcelo

(

Asociación Argentina de Microbiología

,

2018

)

Las pérdidas reproductivas constituyen una causa importante de pérdida económica en el ganado bovino, aunque en más del 50% de los casos la etiología es desconocida. Las especies de la familia Chlamydiaceae han sido asociadas ...

Livingstone, Morag

;

Caspe, Sergio Gaston

;

Longbottom, David

(

American Society for Microbiology

,

2021-05

)

We report the complete genome sequence of Chlamydia abortus MRI-10/19, recovered from the infected placenta of a sheep that had been vaccinated with the commercial live attenuated C. abortus 1B vaccine strain. Comparative ...

Llorente, L.

;

Ivanissevich, A.

;

Camiña, S.

;

Marco, L.

;

Vissani, Aldana

;

Olguin Perglione, Cecilia

;

Herrera, M.

;

Barrandeguy, Maria Edith

(

2016

)